Petersburg man lost dream, but made $45,000 profit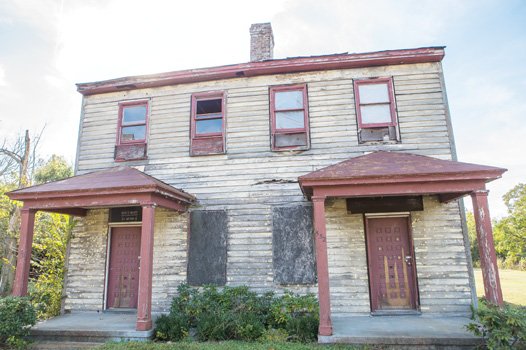 Montague D. Phipps had big dreams three years ago when he bought a derelict duplex from the City of Petersburg for the rock-bottom price of $5,000.
But when his dreams fell apart, he still came out ahead. He recently sold the still-ramshackle building for $50,000 — a far different outcome than he and the Petersburg government envisioned when Mr. Phipps was approved to buy the property in 2011.
His case is attracting attention in part because he was able to flip the property for a profit and because of his ties to Petersburg City Councilman W. Howard Myers, who defeated a challenger Nov. 4 to win a second term as the Ward 5 representative.
Mr. Phipps, an adjunct design instructor at Virginia State University, also makes his home and operates his interior design business out of an apartment he leases from Mr. Myers. The apartment is in a five-unit building that Mr. Myers owns and where he, too, resides.
There is no evidence that Mr. Myers pushed the sale of the property in the 500 block of Fleet Street to Mr. Phipps. Petersburg council records also support Mr. Myers' assertion that "I had no involvement" in the vote approving the sale.
Mr. Myers is listed as abstaining from the otherwise unanimous vote of support for the recommendation from City Manager William Johnson III to sell the Fleet Street property to Mr. Phipps without any strings attached.
But even if there was no connection to Mr. Myers, this sale exemplifies the shortcomings of the program whose goal is to rev up development and job creation in a city that desperately needs both.

Like many communities, Petersburg has acquired tax-delinquent properties and has been willing to sell them cheaply to businesses, individuals and other parties seeking to redevelop them and get them back on the tax rolls.

Mr. Phipps sought to take advantage of the program. He saw an opportunity when the city advertised for bids on the crumbling Fleet Street house that the city had owned for eight years. A mortgage company, which took over the ramshackle property in 1994, deeded it to the city in 2003.
In making his bid, Mr. Phipps told the city that the property was an ideal location for his interior design business. He shared plans to renovate the building and transform it into a production center for custom furniture, home furnishings and apparel.
He also envisioned the new studio as a place to provide hands-on experience for the students in his VSU design classes, with a first-floor display and retail space for unique offerings. The location seemed perfect, sitting a stone's throw from the Appomattox River bridge that leads to VSU.

His bid and his plans were good enough for City Manager Johnson and, later, for a council eager to get the property off the city's books. In exchange for the $5,000, Mr. Phipps received ownership of the property.
Mr. Phipps' winning bid garnered more than 530-32 Fleet St., where the building sits. The purchase included a vacant lot at 536-38 Fleet St. Both properties are linked on deeds going back more than 20 years. But the two properties are listed separately on the city's property tax rolls and are treated as different parcels for tax purposes, with the building now valued at $55,400 and the lot valued at about $27,200.
It is unknown whether the council would have sought a higher price if it had understood that Mr. Phipps' successful bid included two parcels, instead of only one.
That has raised eyebrows. So has the fact that no one on the council or the city delved deeply into whether Mr. Phipps had the financial wherewithal to carry out his rehab plan or to secure the financing. There was no requirement by the city that he first show that he had secured financing before he was given the deed.
Also, no deadline was included in the sales contract for Mr. Phipps to start or to complete the work.
Another problem was whether zoning would allow the project.
Mr. Phipps said that when he bid, neither Mr. Johnson nor the council mentioned that the existing zoning, M2 or heavy manufacturing, bars the use of the property for residential or retail purposes. No one told him, he said, that he would have to go through the expensive and onerous process of getting a special use permit or of having the property rezoned to carry out his plans.
In an interview, Mr. Phipps said city officials also failed to mention the building was in a flood plain, which would make its redevelopment far more difficult.
He said he quickly ran through his money getting expert advice and cleaning out, boarding and shoring up the decaying building.
Then the bank that had indicated an interest in financing the project backed out, claiming that the work he had done to keep the building from collapsing would bar it from qualifying for historic tax credits.
Then he learned that he did not have the right zoning.

"It got to be too much," said Mr. Phipps, who wants to concentrate on design projects. After spending a year trying to make it happen, he quit trying.

He said he was delighted when a representative of a development partnership, Hansco-SSI LP, approached him about selling. The partnership has several projects underway nearby, Mr. Phipps said. He said the buyer understood that the purchase included going through the hassle of getting the property rezoned.
Mr. Phipps said the sale proceeds enabled him to recoup his expenses and provide funding to buy equipment he needs for his business and for his classes. However, he said he has learned his lesson about trying to buy property from the city, no matter how cheap the price.
"There are a lot of invisible strings attached," he said ruefully.