No charges for Michael Brown's killer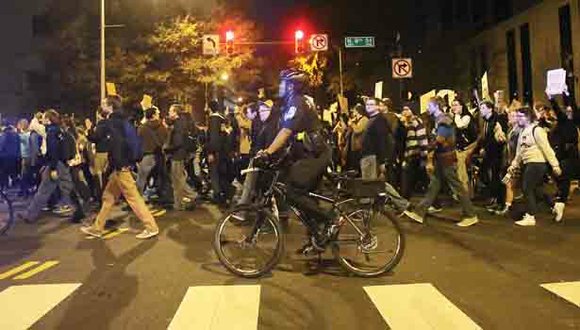 "We are profoundly disappointed that the killer of our child will not face the consequence of his actions," Michael Brown's family stated in a news release issued the morning after the grand jury decision.
"While we understand that many others share our pain, we ask that you channel your frustration in ways that will make a positive change. We need to work together to fix the system that allowed this to happen."
Mr. Brown's father, Michael Brown Sr., who before the decision had urged people to restrict themselves to peaceful protests, also appeared at a news conference Tuesday with the Rev. Al Sharpton and the family's attorney, Benjamin Crump, but did not speak.
Mr. Brown was wearing a red St. Louis Cardinals baseball cap like the one his son was wearing when he repeatedly was shot by Officer Wilson. The dad also wore a T-shirt with the slogan "No Justice No Peace."
"You have broken our hearts, but you have not broken our backs," Rev. Sharpton said. "We are going to continue to pursue justice," citing hopes that the U.S. Justice Department eventually might bring a federal case against the officer for violating the teen's civil rights.
The family also could pursue a wrongful death suit in civil court.
Mr. Crump blasted Mr. McCulloch's handling of the case. "We have the local prosecutor who has a symbiotic relationship with the local police and the local police officers.
"We could foresee what the outcome was going to be, and that's exactly what occurred last night."
The family statement urged protesters to channel their frustration into a campaign for body cameras to be worn by every police officer on a patrol in the United States.
Ferguson police, bolstered by the Missouri National Guard, were unprepared for the reaction, despite more than a week to get ready.
In the end, police were forced to fire tear gas and flash-bang canisters at protesters, said St. Louis County Police Chief Jon Belmar. Sixty-one people were arrested, police reported.
Chief Belmar acknowledged the violence late Monday night and early Tuesday morning was "much worse" than the disturbances that erupted in the immediate aftermath of the shooting of Mr. Brown.
While most of the damage was in and around Ferguson, the church that Michael Brown Sr. attends outside Ferguson also was destroyed by arson. He had been baptized Sunday at Flood Christian Church in a rural area of St. Louis County distant from Ferguson.
The pastor, the Rev. Carlton Lee, said he believes the sanctuary was torched because he had been outspoken in calling for the arrest of Officer Wilson.
Shortly after the grand jury decision was announced, President Obama issued his own appeal for calm in a nationally televised address. "There is never an excuse for violence," he said.
"But what is also true is that there are still problems, and communities of color aren't just making these problems up," the president said. "Separating that from this particular decision, there are issues in which the law, too, often feels as if it is being applied in a discriminatory fashion."