Personality: Amy P. Nisenson
Spotlight on new chair of Leadership Metro Richmond
10/10/2014, 6 a.m.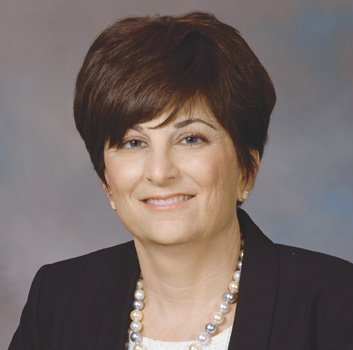 Amy P. Nisenson exudes a strong inner confidence.
She describes herself as "caring, humble and self- motivated."
The 53-year-old Goochland County resident unselfishly uses those traits for community betterment.
She says that's why she enrolled in and completed a Leadership Metro Richmond class in 2001. She now chairs the board of Leadership Metro Richmond as the organization celebrates its 35th anniversary. She was elected to serve a one-year term in June.
Her aim: To assist the nonprofit, whose mission is to connect and educate a diverse group of community leaders, inspiring them to serve the Richmond region.
Ms. Nisenson says that worthy objective is right down her alley.
"I am a strong believer in the tenets of servant leadership, which includes collaboration, inclusion and giving back to the community," she enthusiastically declares.
"Serving as chair of LMR seemed like the next step in my work with the organization and a way to work with other LMR leaders who share my passions," she says.
Ms. Nisenson proudly cites the proven track record of LMR in effectively serving communities.
From a survey of members who recently graduated from LMR's Leadership Quest program, she points out 70 percent have joined a nonprofit board, with 47 percent having served as an officer of a nonprofit or public board.
A member of LMR is seated at every significant regional solution-building table in our area, she adds.
In her day job, Ms. Nisenson is the executive director of the Mary Morton Parsons Foundation, formed in 1988 as a private foundation to support the capital needs of charitable organizations. She helps facilitate the foundation's allocation of $4 million to $5 million in grants annually.
Meet this week's Personality, Amy P. Nisenson:
Date and place of birth: May 6 in Portsmouth.
Current home: Manakin-Sabot in Goochland.
Alma mater: Bachelor's in foreign affairs, University of Virginia, 1983.
Family: Husband, David, married 31 years; two adult children, Daniel, a lawyer, and Stacey, a first-grade teacher.
Occupation: Executive director, The Mary Morton Parsons Foundation and Independent Consultant.
What I do: I am a senior philanthropy professional with a 30-year track record of success across corporate, foundation and nonprofit sectors.
I provide expertise in a variety of service businesses including strategic planning, group and meeting facilitation, board development, and resource development and fundraising.
I offer consultation in the area of corporate community engagement, working to develop community engagement strategies and programs that support and further business objectives. I also teach classes in nonprofit management.
When LMR was founded: 1980.
LMR's mission: To connect and educate a diverse group of community leaders, inspiring them to serve the Richmond region.
Number of LMR graduates per year: 65.
Number served since inception: 2,002.
Number of graduates in area elected positions: 16.
LMR President/CEO: Myra Goodman Smith.
LMR is financially supported by: Corporations, members and fees.
Your foremost LMR goal: To continue the 35-year reputation of LMR to develop diverse and engaged leaders for the Richmond region.
A good leader is: One who leads by example and earns, shows and instills confidence with humility. A good leader also empowers his/her followers with confidence and pride.