VSU homecoming kicks off this weekend
10/24/2014, 6 a.m.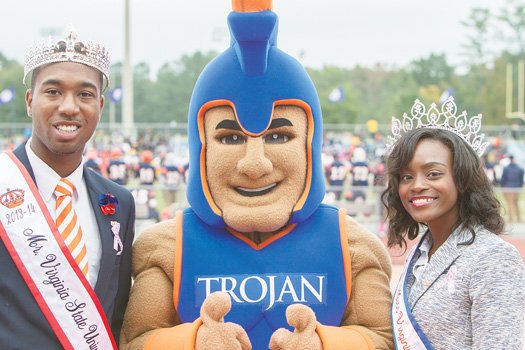 A 1970s "Funk & Groove" tribute to the late Mitchell Malone, a local radio station personality and Virginia State University alumnus, is among the highlights of VSU homecoming activities this weekend.
Mr. Malone got his start as the music and sports director for the Virginia State radio station and later hosted the highly rated "Quiet Storm" radio show at Richmond's Kiss 99.3-105.7 FM. He died in November 2013.
The tribute will begin 8 p.m. Saturday, Oct. 25, on the front lawn at Virginia Hall on the campus. It will feature the reunion of the funk band Trussel, which first formed at Virginia State College (now University) in 1972. Tickets: $25 in advance, $35 at the door.
Thousands of tailgaters, partygoers and football fans are expected for the fun-filled events designed to attract alumni, students and community members.
The homecoming theme: "Heart of a Trojan."
Among the other activities:
VSU King Dante Wright and Queen Machele Sanders will be coronated in a ball 6:30 p.m. Thursday, Oct. 23 at Daniel Gymnasium.
A golf tournament, bazaar, football pep rally, fraternity reunion, Jazz on the Hill, hip-hop concert and formal affair for alumni will follow Friday, Oct. 24.
On Saturday, Oct. 25, a 9 a.m. parade through historic Downtown Petersburg will precede the 2 p.m. homecoming football game between VSU and Lincoln (Pa.) University. The popular Woo Woo cheerleading squad will entertain the crowd.
Later in the evening, a "Legends of Troy" party, at 7 p.m., and "Glow" party, at 10 p.m., are on tap.
A "Ladies in Red" breakfast will conclude homecoming activities Sunday, Oct. 26, at 10 a.m. at the Gateway Dining & Events Center.
Events and times:
Friday, Oct. 24

7 p.m.: Jazz on the Hill, Virginia Hall, front lawn. Tickets: $60.
8 p.m.: Hip-hop concert, Daniel Gymnasium. Tickets: $25 students, $30 general admission.
9 p.m.: All Black Affair, VSU G.O.L.D. (Graduates of the Last Decade), Hippodrome Theater in Richmond. Tickets: $15 in advance.
Saturday, Oct. 25
9 a.m.: Homecoming parade in Downtown Historic Petersburg.
2 p.m.: Football game, Rodgers Stadium. Free for VSU students and visiting students with ID.
Further information: www.vsu.edu/homecoming.