From this day forward
Holly Rodriguez | 10/31/2014, 5:55 a.m.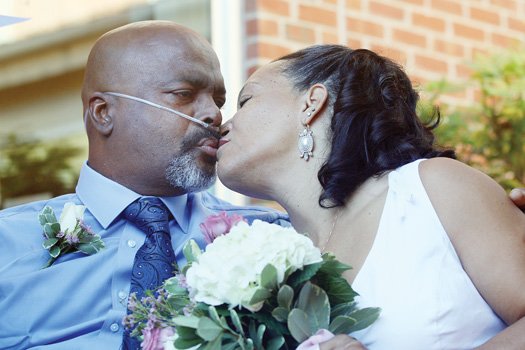 The bride, Karla Booker, wore white and a radiant smile.
The groom, Kent A.P. Smith, attired in blue, wore a nasal cannula that pumped oxygen.
He entered the wedding ceremony Monday in the Healing Garden at Virginia Commonwealth University's Massey Cancer Center in a wheelchair.
They held hands and exchanged loving looks.
A brain tumor and cancer were no match for the couple's wedding joy. Their love, 40 years in the making, would not be stopped by his diagnosis of a brain tumor and stage 4 lung cancer just four weeks earlier.
"I believe that God is blessing this marriage," said Ms. Booker's mother, Deloris Bryant-Booker, one of a close circle of 60 family and friends attending the hastily arranged nuptials. "It was meant to be. I am joyfully happy for both of them."
Mr. Smith, 52, and Ms. Booker, 51, met in the fifth grade, when their families lived in San Rafael, Calif. Their mothers became best friends. And Mr. Smith became best friends with Ms. Booker's brother.
In the intervening years, the Smiths left California and the family settled in Richmond, where Mr. Smith's father, Dr. Lindley T. Smith, has been a practicing ophthalmologist for many years.
The families were in and out of touch through the decades as the children became adults. Mr. Smith was appointed by then-Gov. George Allen as acting director of the state Department of Minority Business Enterprise. Later, Gov. Jim Gilmore appointed him to the Virginia Parole Board, a position he held from 1998 until 2001.
In 2013, the power of the Internet brought Mr. Smith and Ms. Booker together. They reconnected on Facebook, and recently began making wedding plans.
They decided to relocate Mr. Smith from his residence in Richmond to Ms. Booker's home in Atlanta, where he would telecommute for his job as director of business development at River City Comprehensive Counseling Services.
But the new chapter in the couple's lives took a different turn about a month ago.
During a trip to Richmond to move his belongings, Mr. Smith became ill. Doctors discovered a brain tumor. They also found he had advanced-stage lung cancer. Radiation treatments began. Chemotherapy protocols are being evaluated.
It all came as a shock, Dr. Smith said.
"Kent's illness has impacted me as a father, which I try to temper with my knowledge as a clinician," he said. "But being a father trumps that."
The wedding, planned for spring 2015, was moved up — way up — to Oct. 27.
The groom, who left his hospital bed, was wheeled into the ceremony displaying his usual upbeat and positive demeanor.
"Are y'all ready?" he asked the guests as his bride was poised to walk into the hospital garden. "Let's get this party started!"
The guests broke into joyous laughter.
Ms. Booker was escorted to the altar — the garden's gazebo swing — by her sons. Her mother joined them in giving her away.
The couple sat side by side on the swing as they exchanged vows. It was emotional and, at times, tearful. But the couple smiled when they first kissed as husband and wife.
"I am honored to be the one to love him — right here, right now," the new Mrs. Smith said.
Cake, champagne and bubbles followed the ceremony.
"She loves me with all her heart and I love her with all my heart," Mr. Smith said.
After greeting guests, Mr. Smith began to feel ill. He was whisked away by Massey Cancer Center staff to his hospital room, where the couple spent the afternoon for their honeymoon.