Mr. Sailor, Ms. Simms wed
11/27/2019, 6 p.m.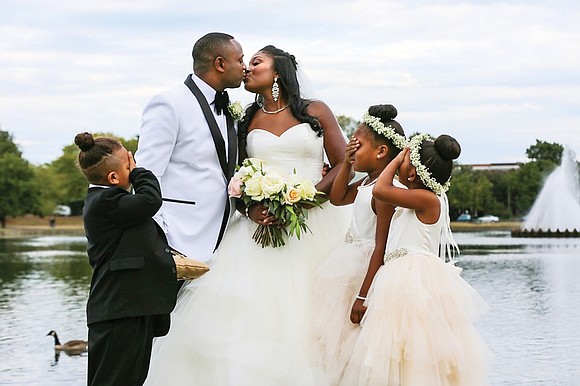 C.J. Sailor was on the campaign trail with Republican gubernatorial candidate Ed Gillespie in 2017 when they made a campaign stop at Southern Kitchen restaurant.
That's when the statewide director of coalitions for the Gillespie campaign spied Chelsea Simms, who was working at the Shockoe Bottom restaurant owned by her mother that has since relocated to Jackson Ward.
Mr. Sailor was lovestruck.
"I called my mother and told her I had just met my wife. She hung up on me," he laughed in recounting his mother's reaction.
But while Mr. Sailor's candidate didn't win — Mr. Gillespie was defeated in the November 2017 election by Democrat Ralph S. Northam — Mr. Sailor came away from the campaign a victor.
A year after first seeing Ms. Simms, the couple was engaged.
And on Oct. 12, the couple was married.
Their wedding ceremony was held at Fifth Baptist Church in Richmond, with Dr. Ricardo L. Brown officiating.
The bride is the daughter of Shane Roberts-Thomas and Kelvin Matthew Thomas Sr., both of Richmond. She is a graduate of Virginia Commonwealth University with a degree in interdisciplinary studies with a concentration in general education and a minor in business.
She is general manager of Southern Kitchen.
The groom is the son of the Rev. Deanna Petit Sailor and the late Clarence Sailor Sr. of Detroit. He is a graduate of Morehouse College with a degree in political science and a minor in theater-drama.
He is director of programs and development for The Gloucester Institute.
Following a honeymoon at Walt Disney World in Orlando, Fla., the couple are living between Richmond and Northern Virginia.