Meet the Morrisseys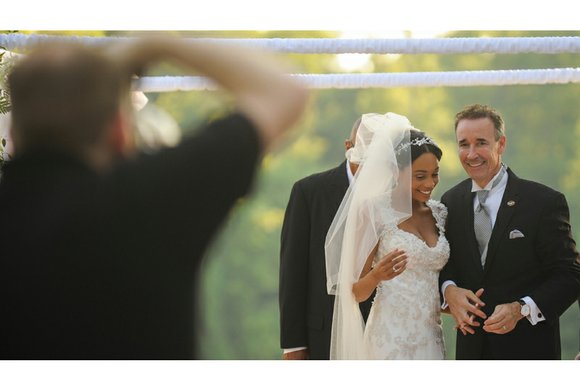 Attorney Joseph D. "Joe" Morrissey took a break last weekend from his campaign to be Richmond's next mayor to wed Myrna Warren, the young woman he went to jail for 17 months ago.
On a bluff overlooking the James River, the former General Assembly delegate and his 20-year-old bride exchanged loving "I do's" last Saturday in front of nearly 250 people, mostly family and longtime friends of the bride and groom.
Two Richmond clergymen presided at the ceremony on Mr. Morrissey's 8-acre farm in Eastern Henrico County — the Rev. Wayne Ball, the former priest at St. Patrick's Catholic Church that Mr. Morrissey attends, and Dr. A. Lincoln James Jr., pastor of Trinity Baptist Church, who has known Mr. Morrissey for 30 years.
Mr. Morrissey's five children — including two babies with the former Miss Warren — were participants in the ceremony as the couple recited traditional vows
"She is the most beautiful person in the world — both inside and out," Mr. Morrissey said. "She is an 'old soul,' and the love of my life."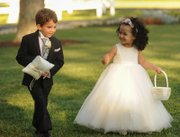 Rose petals were strewn on a white runner for the bride to walk down the aisle to meet the tuxedoed groom under a canopy on the lawn. The bride wore a Maggie Sottero-designed sleeveless sheath gown of ivory lace over light gold, embellished with Swarovski crystals.
This was the first marriage for Mr. Morrissey, 58, a former Richmond commonwealth's attorney who has had an unconventional legal career, including losing his law license for a few years then bouncing back in 2007 to win a seat in the General Assembly. He later was reinstated as a member of the Virginia State Bar, with help from a divided state Supreme Court.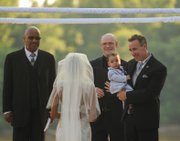 Many of the guests had known Mr. Morrissey for years. Typical was his best man, Dr. Ken Stoner, who first met Mr. Morrissey as a dental patient in 1982 and became fast friends with him after they went water skiing.
Mr. Morrissey's run for mayor was visible to all wedding guests with several big campaign signs with his oversized photo posted along Osborne Turnpike on the route to the farm in Varina. Closer to the farm were several smaller signs with wedding messages: "Forever begins today."
The couple's path to the altar has had many twists and turns. They met when Miss Warren was 17 and Mr. Morrissey hired her as an intern at his law office. Within a month, the estranged father of the intern, Coleman Pride, along with her sisters, was calling for the arrest and prosecution of Mr. Morrissey for having sex with the underage teen, who was known at the time as Myrna Pride. She dropped her father's surname and adopted that of her supportive mother, Deidre Warren.
Within a year, Mr. Morrissey was facing felony charges, despite assertions by him and the young woman that the charges were trumped up. Given Mr. Morrissey's status as a state legislator at the time, the scandal took on a life of its own.