Minimum wage protesters take it to the street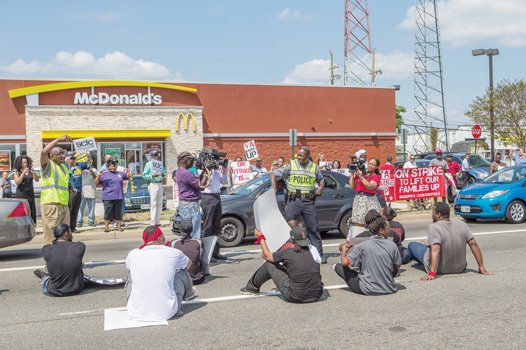 Rolanda R. McMillan, 52, is fed up with having to live on $7.25 an hour. "I can't make it."
La'shekia M. Harris, 23, is tired of working two and three jobs at minimum wage pay "to make enough to care for my children.
And Rey A. Arteaga Jr., 22, can't stretch his fast food paycheck far enough to cover the bills for himself and other unemployed family members he cares for.
They were among 10 people who staged an impromptu sit-in in the 2300 block of Mechanicsville Turnpike in front of a McDonald's restaurant — blocking traffic on the major artery last Thursday.
The protesters blocked traffic for two hours before Henrico Police arrested them for unlawful assembly and impeding traffic after issuing repeated warnings for them to disperse.
Their goal: To raise awareness of the need for a minimum wage hike using a tactic borrowed from the Civil Rights Moment.
This protest was the most dramatic staged so far in the Richmond area by workers seeking an increase in the minimum wage to $15 an hour. That's far above proposals for minimum wage hikes that have failed to advance in Congress or the Virginia General Assembly.
"We have to take a stand," said Tierra L. Bradley, 18, a freshman at Virginia Union University whose students led the sit-in movement in Richmond in 1960 to protest then-segregated restaurants and hotels.
More than 30 supporters stood on the sidewalk chanting slogans like "What do we want? $15. When do we want it? Now!" and "Hey, hey, ho, ho, $7.25 has got to go."

The chanters included workers, family members and representatives from unions, the Chesterfield and Richmond branches of the NAACP and the Richmond Chapter of the Southern Christian Leadership Conference.
The protest chased away customers. However, none of the workers inside the McDonald's joined the protest. "I don't know anything about it," said one.
None of the 10 worked at the McDonald's, though most had jobs at other outlets like Wendy's, Burger King, Popeyes and other McDonald's stores.
Before the arrests, Henrico officers ensured the demonstrators had water. More than 30 county, city and state police participated in diverting traffic.
The police won praise for their restraint. They warned the demonstrators four times to leave the street before making the arrests.