A shutout for Va. Union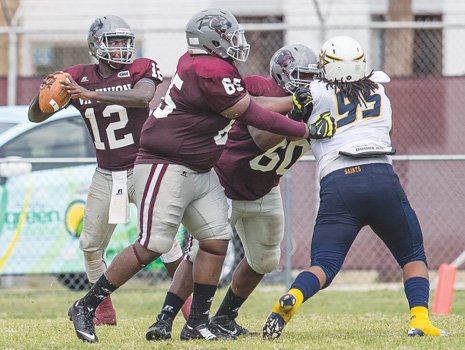 Last season Virginia Union University football took a large stride backward, going 3-7 and surrendering 343 points.
This year's Panthers have taken a step forward, albeit a baby step, with a 12-0 opening-day shutout of lightly regarded Siena Heights, Mich., last Saturday, before 4,057 fans at Hovey Field.
It marked the head VUU coaching debut of Mark James and the inaugural season as athletic director for former Panthers' coach Joe Taylor.
VUU hopes to continue the forward momentum this Saturday with a 1 p.m. Hovey Field kickoff against Charleston, W.Va.
Of the Division II Mountain East Conference, Charleston (formerly known as Morris Harvey) opened with a 42-21 win at West Virginian Wesleyan.
Charleston was 6-5 last year and is picked to finish third in its league this fall.
Siena Heights is in just its second year of football as an NAIA affiliate.
Several Panthers standing out in the opener were quarterback Shawheem Dowdy, 255-pound linebacker Dominique Roane and first-year defensive coordinator Mike Fanoga.
A sophomore transfer from Grambling, the 6-foot-4 Dowdy passed for 248 yards and a touchdown, and ran for 44 more.
Dowdy's primary target was Florida A&M transfer Lennworth Lennon, who had five grabs, 117 yards and the team's lone TD.
Roane is a senior from Meadowbrook High who led an inspired defense with 11 tackles.
The VUU defense actually outscored Siena Heights offense, 2-0, with a third-period safety after a blocked punt by Ricardo Dixon.
From the American Samoa, Fanoga is a well-traveled defensive guru who has coached at several Division I schools, including Kentucky, Western Kentucky, New Mexico State and his own alma mater, Texas-El Paso.
Last year's defense was a disaster, yielding 66 points in the opener to Bethune-Cookman, 55 to Winston-Salem and 46 in the dismal season-ending loss to Virginia State.
Starting in 2014 with a defensive goose-egg is a huge plus, even if the level of competition is questionable. Looking for "red flags," VUU lost time of possession, 35:20 minutes to 22:40, had eight penalties for 111 yards, and was slow getting started, settling for a 39-yard Troy Krepich field goal in a sluggish 3-0 first half. 
Still, under a new coaching staff, it's a program morale boost to open with a victory after last season was shipwrecked early with an 0-4 start.
Following the two non-conference games, VUU jumps into CIAA action Sept. 20 at Fayetteville and Sept. 27 at J.C. Smith before returning to Hovey Field on Oct. 4 vs. Shaw.