Robertson pushes plan to fix aging schools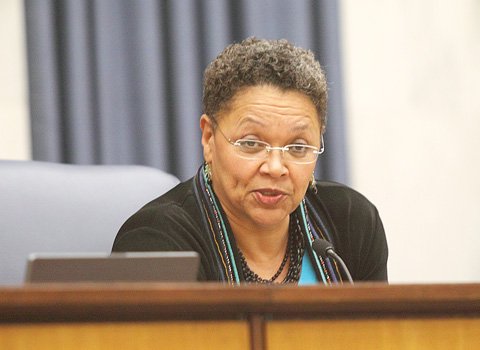 Ellen F. Robertson is frustrated after a year of trying and failing to win School Board support to replace Overby-Sheppard Elementary School in the North Side section of the 6th District she represents on City Council.

She's worried the new school never will be built and the money will go to other city needs.
That's why council's vice president has come up with a new strategy in an attempt to win over the board's majority, which is insisting the $21.5 million City Council earmarked for the new Overby-Sheppard be shifted to pay for critical repairs to dozens of other schools.
Putting money into repairs would keep the schools usable. It also could be used to replace another building that is far older than Overby-Sheppard, or in worse condition, according to council members.
Opened in 1978, Overby-Sheppard is one of the school system's newer buildings and is considered to be in reasonable shape, though three rooftop air-conditioning units need replacement.
Ms. Robertson's new approach: Campaign to kill the mayor's proposed 1 cent cut in the city's real estate tax rate and use the $2 million that penny per property would generate as an annual revenue stream to support borrowing up to $30 million to pour into schools maintenance — the amount the School Board has said it needs immediately to replace leaky roofs, worn-out boilers and air conditioners and failing wiring and plumbing at numerous schools.

No matter what happens, Ms. Robertson said as she launched the effort last week at the council Finance and Economic Development Committee, City Council is going to have to find the additional dollars to fix the schools.
The school system has received $7.7 million this fiscal year, which started July 1, to pay for major maintenance of its 44 schools. That's roughly $175,000 for each building. The average age of the city's schools is 60.
However, School Board Chairman Donald Coleman advised the mayor and council in a letter dated Sept. 19 that the school system would need an additional $27.3 million to pay for high-priority fixes to prevent a system failure that could force one or more buildings to be shut down. In all, about $35 million in immediate needs have been identified, Mr. Coleman stated.
"This is something we are going have to deal with," Ms. Robertson told the two other members of the Finance Committee, Chairwoman Kathy C. Graziano, 4th District, and Parker C. Agelasto, 5th District.
Ms. Robertson called rejecting the mayor's tax cut "an opportunity" to gain the funding to handle building problems.

Neither Ms. Graziano nor Mr. Agelasto immediately embraced her position, but both agreed that the city has too many needs to justify a tax cut.
They joined her in recommending that council kill the tax cut and maintain the current rate of $1.20 per $100 of assessed value — a strong signal that the mayor's proposal to reduce the tax rate to $1.19 per $100 is likely to die.
The city has projected that if the $1.20 rate is maintained, collections from the real estate tax could increase $4.3 million above the amount anticipated when council approved the current budget in May. Each penny of real estate tax generates about $2 million.