Huguenot senior hurdles to state champion
Fred Jeter | 4/21/2015, 11:47 a.m. | Updated on 4/21/2015, 11:47 a.m.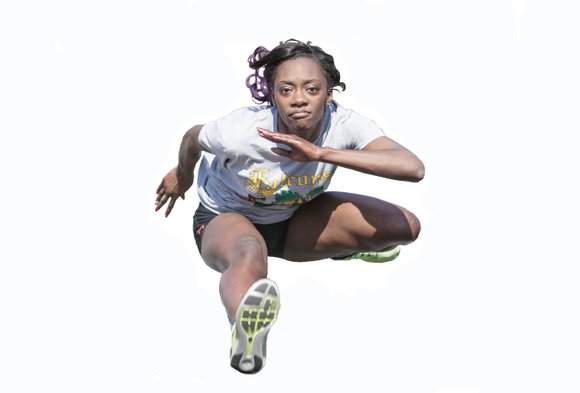 Huguenot High School senior Shaunté Harris has a passion for fashion.
But if there's one thing she relishes more than a sporty, chic look, it's running the high hurdles — an event famous for its thrills — and also its spills.
Therefore, don't be surprised to see Harris wearing distressed denims to school, rather than a trendy shirtdress.
"My legs aren't the nicest," she says with a wide smile. "I've taken plenty of spills, lots of hard falls. My legs have cuts and scratches. It kind of never stops."
The bubbly 18-year-old adds that her legs aren't the only areas that have taken some abuse striding over the 33-inch "fences."
"I've got scratches on my elbows, even my stomach," she added.
Athletic scrapes and scratches, inevitable for a hurdler, may alter Harris' wardrobe, but they don't slow her down.
The slender 5-foot-6 Falcon known as "Tay" and "Speedy" won all there was to win during the last indoor track-and-field season.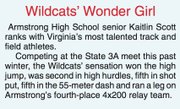 Her coup de grace was capturing her first state championship March 9 at Liberty University in Lynchburg.
"It was so exciting," she said. "Four years of work went into this, and I finally got it."
Harris broke the tape in 8.52 seconds, nipping her long time nemesis, Kaitlin Scott of Armstrong High School.
Earlier in the campaign, Harris won the Conference 26 meet and the 3A East Region, both at the Arthur Ashe Center.
Scott was second to Harris in conference, region and state events.
"I love the hurdles," said Harris, who began hurdling at Falling Creek Middle School in Chesterfield County. "Yes, the event can be a struggle, but that's real life.
"If you never fall down, you don't learn how to get up."
A few of Harris' favorite things are shopping with her younger twin sisters, Kiyah and Kayla, studying in Charles Solomon's Honors English class, and serving as a sales associate at Plato's Closet on Midlothian Turnpike.
Plato's Closet is a chain store that buys and sells gently used clothes, with emphasis on the hottest fashions for teenagers and "20-somethings."
"I just love it," she said of her part-time job. "I love fashion — shoes, clothing, all of it. And working there really opens your eyes to diversity — so many different kinds of people."
If you want to give Harris a graduation present this spring, a gift certificate to her favorite clothing store would be appropriate.
And you might consider presenting her with a hurdle to call her own.
"Shaunté never seems to tire of training for the hurdles," said Huguenot Coach Michael Griffin, a former Virginia State University track and football athlete.
"Even on the weekends, she's looking for somewhere to go to practice the hurdles. She'd practice at home if she could."
The new Huguenot building, with its grand opening this past January, features a state of the art, rubberized eight-lane track.
There are growing pains, however.
As of now, there are no jumping pits or a discus throwing circle. And hurdles are short in supply.
That's why Harris sometimes has to go looking for a full set of "sticks" to leap over.
The 55-meter hurdles indoors requires five hurdles; for outdoors, 10 hurdles are needed for the 100-meter event.
Harris noted that she sometimes practices at Meadowbrook High School in her old neighborhood.
Also a long jumper and sprinter on the Falcons' relay teams, Harris plans to continue track next fall, possibly at Old Dominion University in Norfolk.
Other college options are Virginia Commonwealth University, Norfolk State University, South Carolina State University and Methodist University in Fayetteville, N.C.
She's thinking about majoring in physical therapy.
"I've had so many physical therapists help me with my injuries," she said. "I'd like to do the same for others."
With a big grin, she added: "And after I get established in physical therapy, I'd like to open my own clothing shop."
Considering her background, Harris' boutique could provide a unique combination of spiked heels — and track spikes.