Enough is enough
Freddie Gray's spine nearly severed, larynx crushed while in police custody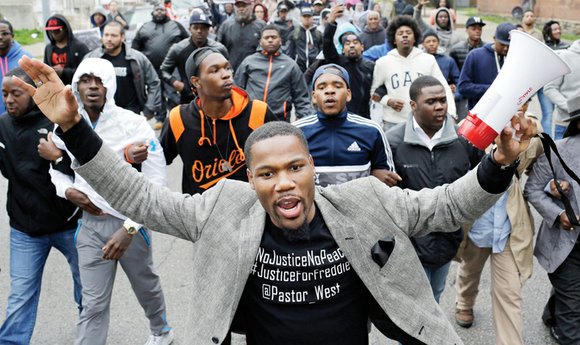 They made the special stop during a more than 200-mile trek that began April 13 in New York City and concluded April 21 in Washington to demonstrate the increasing incidents of police brutality against African-American males — from Eric Garner in New York City to Walter Scott in Charleston, S.C., to Rumain Brisbon in Phoenix.
Actor and human rights activist Danny Glover backed their efforts.
"The time is now for action-based initiatives to supersede wishful thinking, " he said in a statement.
Police said they found a knife clipped to the inside of Mr. Gray's front pants pocket when he was apprehended on the morning of April 12, authorities said.
Officers requested a van to take him to the police station. A citizen videotaped a portion of the encounter on a cell phone, which showed police dragging Mr. Gray into the van. He was handcuffed and hollering about pain.
While it's unclear what happened in the van, the Baltimore Sun reported that Mr. Gray, who suffered from asthma, asked for an inhaler.
At some point during his roughly 30-minute ride, the van was stopped and Mr. Gray's legs were shackled when an officer felt he was becoming "irate," police said.
Mr. Gray lapsed into a coma, was resuscitated, had surgery on April 13 and then "clung to life for seven days" before dying April 19 in the hospital, said William H. Murphy Jr., the family's attorney.
His relatives said he suffered fractured vertebrae and a crushed larynx. Mr. Murphy said Mr. Gray's spine had been nearly severed at the neck while he was in custody.
According to arrest papers filed by Officer Miller, Mr. Gray was charged with carrying a knife.
"If we stay calm at a time like this, there is something wrong with us," one man told reporters.