From R&B to gospel, Barky's has changed with the times
4/24/2015, 9:52 a.m.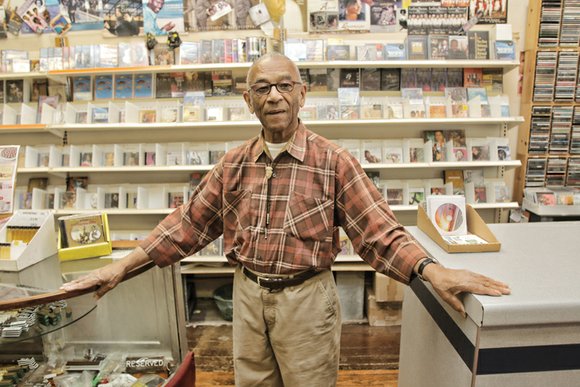 Most days, Mr. Haggins can be found working at Barky's, which is nestled on Broad Street among a section of barbershops, hair salons, convenience stores and pawn shops. The shop serves not only as a place where people go to buy spiritual materials, but also as a hub for people of faith to congregate.
"It's like an extension of home," said Vincent Mapp, 62, who said he has frequented the store since his mother first took him there as a child in 1965.
"They specialize in one thing and that's the Gospel of Jesus," Mr. Mapp added. "You can get anything here for yourself or your church that you want."
Miranda Lewis said she's drawn to the store by its down-home feeling. "Mr. Haggins and his employees are so warm and inviting," she said.
While many larger music stores and chains are no longer around, Barky's has persevered and remains a mainstay in the community.
"I have so much gratitude to the people who have kept me here," Mr. Haggins said. "If it wasn't for our customers, we wouldn't be here. We try to pay them back by honoring God and serving the public."
Mr. Haggins also praised his friends in the community who have helped him forge through tough economic times.
He praised one silent partner — Charles L. Belle, owner of Belle Auto Rental in Richmond — who "was kind enough to contribute when things were going bad."
Mr. Haggins good-naturedly renamed the business "Barky's and Belle Stores" temporarily to thank Mr. Belle for his assistance.
In his typical humble fashion, Mr. Haggins credits others with his store's against-all-odds success.
He calls his employees "the heart of our business."
He points to Frances Berry, the quick-with-a-smile sales associate behind the counter. "She has been with me 40 years," he said. "I wouldn't be here without her."
He then reels off the names of other longtime employees, who are no longer at Barky's. They include Josephine Harris, who baby-sat him as a child, and Victor Herbert, who both worked at Barky's for nearly two decades. He also praised sisters Mary and Shirley Miller, sales associates there for 14 years.
Humility aside, Mr. Haggins' customers and sale associates point to him as the glue that holds the store together.
"He's a blessed man," said Ms. Berry. "He knows how to get along so well with the customers."