Former NBA star Rick Mahorn to be inducted into Hampton Roads Sports Hall of Fame
Fred Jeter | 8/11/2015, 11:10 a.m.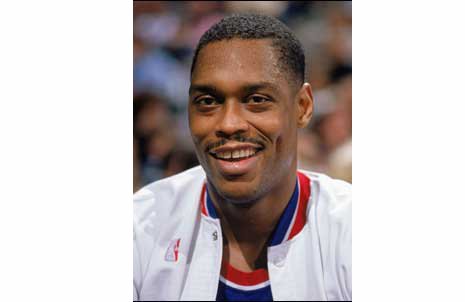 Former Hampton University basketball sensation Rick Mahorn has been selected for the Hampton Roads Sports Hall of Fame.
The Hall of Fame Class of 2015 will be inducted Oct. 20 at Norfolk Scope.
The 6-foot-10, 240-pound Mahorn set numerous records playing for the HU Pirates from 1976 to 1980.
His marks include:
• Most career points at Hampton, 2,418
• Most career rebounds, 1,465
• Highest season scoring average, 27.6 in 1980
• Most points in a game, 48 in 1980 against St. Augustine's University
Mahorn was named CIAA Player of the Year in 1979 and went on to play in the NBA from 1980 to 1999.
He was a bruising ringleader for the 1989 NBA champion Detroit Pistons, aka the "Motor City Bad Boys."
Mahorn also played professionally for Washington, Philadelphia and the New York Nets and for Roma of the Italian League. For his NBA career, he scored 7,763 points, grabbed 6,957 rebounds and blocked 1,007 shots.
Others in the Hall of Fame Class of 2015 are:
Hank Foiles: From Granby High School in Norfolk. He played seven seasons of big league baseball and was a National League All-Star with Pittsburgh in 1957.
D.J. Dozier: From Kempsville High School in Virginia Beach. He was among a few players to double as a pro football and baseball athlete. He played five seasons in the NFL and one baseball season with the Mets.
Angela Hucles: From Norfolk Academy. She became an All-ACC soccer player at University of Virginia and later played on the U.S. National Soccer Team
Sonny Allen: He coached Old Dominion University basketball from 1965 to 1975, earning a 181-94 record. His team won the NCAA Division II title in 1975. He signed the Monarchs' first black player, Arthur "Buttons" Speakes, in 1965.
Andrew Heidelberg: From Norview High School in Norfolk. In 1961, he became the first black athlete to play football for a majority white public school. He helped Norview win the Eastern District championship.
More details on the induction: HU Office of Sports Information, (757) 727-5811.