Personality: Ke'Aja Jefferson
Spotlight on first place winner at 2015 Technology Student National Conference
8/20/2015, 10:39 p.m. | Updated on 8/20/2015, 10:39 p.m.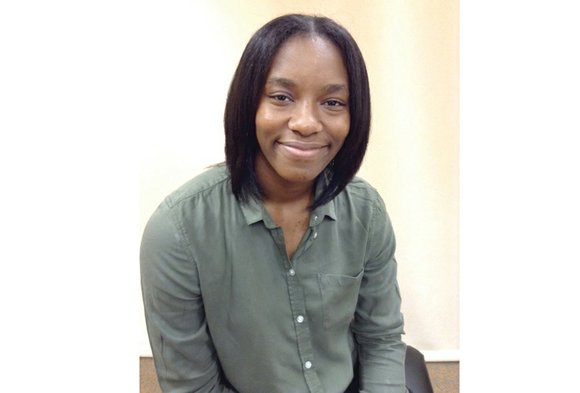 Give Ke'Aja Jefferson an A-plus for determination.
The rising Richmond Community High School senior, who has earned an amazing 4.7 GPA, excels in several areas. Her latest achievement: She finished first in the Transportation Modeling Contest at the 2015 Technology Student Association National Conference held June 28 through July 2 at The Gaylord Texan Resort in Dallas.
After finishing second last summer and ninth the year before at the national competition, Ke'Aja broke into the victory column this go-round by designing a model of a Coast Guard Dolphin HH-65A helicopter.
The event attracted thousands of high school and middle school students from across the country.
"Participants design a scale model of a vehicle that fits in the annual design problem," Ke'Aja explains of the category in which she competed. "The vehicle is often crafted out of a rectangular block of wood."
She says she was inspired to create the design "from my desire to go into the military and the love for helping those in need. I wanted to model a military helicopter used for rescue."
Her family "was overjoyed" by her winning effort.
Ke'Aja returned from the conference in time to show her first place trophy to her beloved grandfather, Oscar Jefferson, who died several days later of cancer. She calls her grandfather her role model. He served as a petty officer 3rd class in the Army during the Vietnam War. He and his wife, Mary Brown, raised Ke'Aja and her two brothers.
Ke'Aja also lost her 5-year-old cousin to cancer in February.
"It's been a tough year, but time heals all wounds," the resilient student says.
Ke'Aja is the first Richmond Public Schools student to be crowned national champion at the TSA National Conference in more than 20 years, according to RPS officials.
The Richmond School Board honored Ke'Aja at Monday's meeting at Huguenot High School, along with another rising Richmond Community High School senior, Crystal Taylor, who finished fifth in Prepared Presentations at the conference
Ke'Aja first joined the Technology Student Association as a student at Lucille Brown Middle School.
"Not to be cheesy, but Transportation Modeling has a big place in my heart," she says.
As a ninth-grader, she enrolled in Principles of Engineering, a course at the Richmond Technical Center. She began competing at the Technology Student Association National Conference the following summer.
Ke'Aja plans to apply to the U.S. Naval Academy and Virginia Military Institute for college. She spent a week at the Naval Academy's Summer Seminar in June for a six-day introductory session for potential candidates. She wants to pursue a degree in math or engineering, with a minor in German.
"It is my plan to make a career out of serving in the U.S. Navy as a commissioned officer," she says.
Here's a look at this week's high-reaching Personality, Ke'Aja Jefferson:
Date and place of birth: Jan. 19 in Richmond.
Current place of residence: South Side Richmond.
Summer job: Since April 2014, I have been a cashier at Food Lion.
What did you learn from the previous Technology Student Association National Conference competitions: Last year, I placed second for a German Volkswagen that I modeled. I learned that it's all about the whole package. Every component of the project needs as much effort as the next, regardless of the points.