Personality: Tani Washington
7/30/2020, 6 p.m.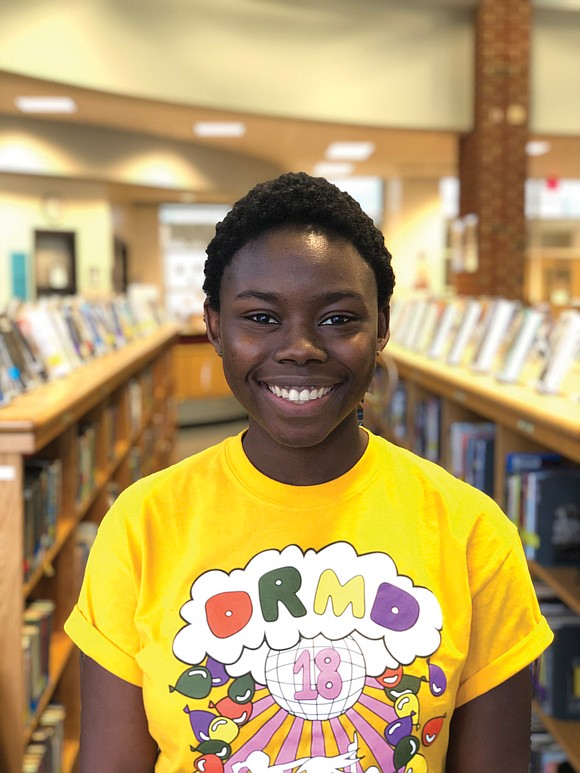 After four years of researching, writing and making oral presentations in high school forensics and debate competitions, Tani Washington has made history.
The 18-year-old who graduated just weeks ago from Deep Run High School in Henrico County placed in the National Speech & Debate Association's 2020 National Tournament, putting her in the top one-tenth of 1 percent of speech and debate students in the nation.
Her fifth place win on the national level marks the first time in more than 20 years that anyone from the Richmond region has placed in the prestigious national competition in which 6,600 students from across the nation participated this year.
"Finding out I was one of the top five winners was overwhelming," Tani says of the June 8 announcement of winners. "That was so incredible. I feel so grateful for that."
Only eight students from the region qualified for the national tournament, which has been held annually since 1931. Because of the coronavirus, this year's competition was held online, with regional winners videotaping their entries for submission.
Tani, who competed in the informative speaking category, spoke about "linguistic genocide" and the death of languages and, subsequently, culture.
Her years of hard work and skill in forensics and debate have paid off. This was just her latest win. Her impressive victories include first place in the National Catholic Forensics League Tournament's Declamation and Original Oratory category and first place in prose in the 2018 Virginia High School League State Forensics Tournament.
Tani says her parents, Carol and Brian Washington, were equally as excited by her latest win.
"Mostly, they were proud of me for working as hard as I did to get to this point," she says.
Sheryl Gibson, the forensics coach at Deep Run, calls Tani a self-starter and deep thinker.
"She researches and creates forensic pieces that speak to her heart and relay her passions, and it really shows," Ms. Gibson says. "She is also a great encourager and was a nurturing captain for our team."
Tani was the only competitor on Deep Run's team when she started in 2017. But with help from the Richmond Region Speech & Debate Initiative of the Richmond Forum, the team has since grown to more than a dozen students. The team won its first regional sweepstakes trophy this year.
As team captain, Tani helped other students build their pieces, critiqued their performances and encouraged them at tournaments.
The forum's initiative, begun in 2018, supports speech and debate programs in 21 high schools in Richmond, Henrico, Chesterfield and Hanover. The goal is to help students build critical thinking, communication, research and other skills for success in college, work and life. More than 450 students participated locally.
Tani will be attending Western Kentucky University on a forensics scholarship in the fall, where she plans to study international affairs and economics. She wants to attend law school after college, concentrating on constitutional law.
She says she enjoys oratory competition because it allows her to speak her thoughts on a topic in terms of her personality and her story.
"Oratory allows people to hear a part of me," she says. "I get to write my speeches myself. I add in my flare and how I speak. This is a result of how much I enjoy researching academic articles. That's my forte."
Tani says one of her major influences is former President Obama, the only U.S. president she knew until reaching high school.
"I grew up with the first Black president. I did not know what it was to not see yourself in the field that you wanted. (His being in office) was something that pushed me toward my field of dreams – law."
Tani says her debate and forensics experience has changed her life. In the current climate of political polarization, it has given her a new approach to listening, understanding and appreciating others.
"Debate has taught me that everyone has a story," she says. "In order to be understanding, you have to communicate as well as forge friendships with other people who are different."
Her message to other young people?
"Do the work. Put in all the effort it takes to create change. Push the ball."
Meet this teen winner who can talk the talk and walk the walk and this week's Personality, Tani Washington:
Date and place of birth: March 2002 in Wisconsin.
Current residence: Glen Allen.
Family: Parents, Dr. Carol Washington, system director of ambulatory nursing at Bon Secours Mercy Hospital, and Brian Washington, grant manager at VCU School of Medicine.
Latest honor: National Speech and Debate Tournament win- ner, placing fifth nationally in informative speaking.
Topic of winning speech: My speech was about linguistic genocide, essentially, the death of languages and the subsequent death of culture.
Name of high school attended: I graduated with the Class of 2020 from Deep Run High School. I will attend Western Kentucky University in the fall.
Leadership roles in high school activities: President and founder of the Minority Student Union; captain of the Debate Team; captain of the Forensics Team; and I also participated in track and field.
What this award means to me: I've been competing in speech and debate since my freshman year of high school. During the course of my career, I've garnered three other national championship titles in 2017, 2018 and 2019. This national tournament felt incredibly different, not only because it was held online, but moreso because it was my last competition as a high school student.
First reaction to news that I placed nationally: Everyone was calling and texting me. It was definitely overwhelming, but in a positive way. It was such a relief to know that I ended my high school speech career with a bang.
Family's reaction: My family was ecstatic, as always. Mostly, they were proud of me for working as hard as I did to get to this point.
When and why I became interested in forensics: During my freshman year, the school's forensics coach was also my civics teacher. After reading my essay about fundamental examples of the Bill of Rights, he emboldened me to join the Speech Team.
How I prepared for competition during COVID- 19: I needed to record my performance and send it into the association prior to the start of the tournament. Primarily, I needed to keep an open mind about the whole situation.
Skills involved in speech and debate: Forensics requires inner confidence and a willing- ness to push yourself outside of your comfort zone.
What makes a good speech: A good speech is one that is concise, yet informative and, ultimately, heartfelt. The secret to writing a good speech is mak- ing sure you love what you are saying. The only way someone can write a bad speech is if they write a speech in hopes that it will please others rather than speaking their own truth.
How to overcome audience fear: The best way to overcome fear is to remember that everyone else gets just as nervous. At the end of the day, you have been given this opportunity to share your truth and you have every right to be there.
Wiley College Debate Team led by Melvin B. Tolson in the 1930s was important because: This team showed youths of color a phenomenal example of Black excellence. Black students had not previ- ously been in spaces of politics or argumentation. The Wiley College Debate Team opened the door for Black youths to belong in these spaces.
Lessons I've learned from my forensics coach: My freshman year forensics coach always told us, "Perform every round like it is the final round." This phrase taught me not only to give 100 percent in speech, but to give 100 percent in all things that I do.
How I start the day: I usually start my day around 6 a.m. I wake up to first meditate and pray. This always puts me in the right mindset to face what- ever obstacles arise throughout the day.
Hobbies: In my free time, I enjoy reading and writing poetry.
Three words that best describe me: Intelligent, energetic and kind.
A quote that I'm inspired by: "Love bears all things, trusts all things, hopes all things, endures all things." — 1 Corinthians 13:7
Kindergarten taught me: That true friendship is more about love than similarities.
Best late-night snack: I've been vegan for three years now, so my favorite snack is sliced apples with sunflower butter.
Person who influenced me the most: My mother. As a Nigerian immigrant, she worked hard her entire life to achieve her dream of becoming a Ph.D. Her story and her tenacity are truly inspirational.
Book that influenced me the most: "The Alchemist" by Paulo Coelho. This book was such beautiful prose about how one boy's international search for love allowed him to better find himself and his purpose.
What I'm reading now: "Homegoing" by Yaa Gyasi.
Next goal: My goal after college is to go to law school and get my J.D. in constitutional law.