Chestefield girl, 13, champion of national deacons' oratory contest
8/8/2014, 6:16 p.m.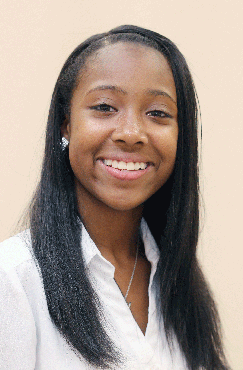 When it comes to matters of faith, 13-year-old Mikayla R. Meekins is a champion public speaker.
The Chesterfield County resident just proved it. She is the winner of the oratory contest of the National Baptist Deacons Convention of America and Its Auxiliaries.
She beat out three other finalists to become the first ever winner from Virginia, according to the conference. The competition was held last month in Baltimore at the 80th annual gathering of the deacons' group.
And the rising eighth-grader at Salem Church Middle School did it on her first try in competitive public speaking.
"Excited." That's how Mikayla describes her feelings after being announced the winner.
The topic she and the other finalists tackled: "Called to meet the challenges of change in the 21st-century church: Preparing the Messenger."

In her speech, she declared: "It is not about who wins the contest, but it is about all of the youth in this room coming out of the deep sleep of worrying about what we look like, who does and does not like us and our selfish attitudes.

"It's about exhibiting godly behavior to be a good witness to those around us. We must walk the walk and talk the talk.
"Youth … you are the messenger. Are you prepared and trained for the task? Are you filled with the Holy Spirit? If not, I suggest you either get ready or move to the side because there is an army of empowered youth ready to listen to the call."
The daughter of Angela C. and Walton D. Meekins Sr. enjoys public speaking "because it helps me feel very confident."
While this was her maiden contest, she said she came in with experience thanks to her parents and her church family at Second Baptist Church of South Richmond.
"They encourage and allow me to speak during church services and programs," Mikayla said. "If I make mistakes, they let me know it's ok because we are all human. I work at getting better each time I speak.
"Also, through my participation in organizations such as the Girl Scouts of America and the Emerging Young Leaders Program of Alpha Kappa Alpha Sorority Inc., I learn leadership development skills that help me express myself clearly."
She also is vice president of the Youth Department for the Deacons Conference of Richmond and Vicinity, which encouraged her to enter the competition.
Mikayla is still exploring what she wants to be when she grows up. She is interested in nursing and journalism, but "no matter what I choose, I want to be known as a good person."