60 years after Rosa Parks' arrest launched modern civil rights era, 'our work isn't finished'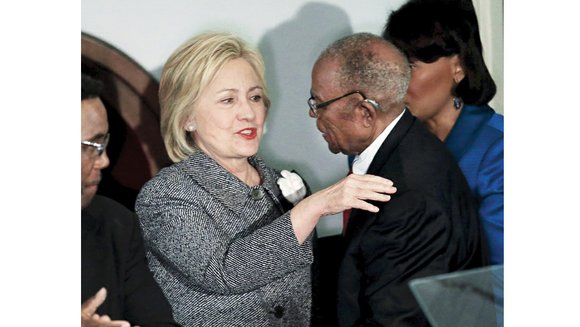 Free Press wire reports
MONTGOMERY, ALA.
While Rosa Parks became a symbol of the Civil Rights Movement when she refused to give up her seat on a segregated Alabama bus, the 60th anniversary of her arrest also highlighted lesser-known pioneers of the bus boycott she sparked.
Mrs. Parks made history by taking a stand alongside other desegregation pioneers like Claudette Colvin, a black teenager arrested nine months earlier in Montgomery, Ala., for refusing to give up her seat to a white passenger, said Fred D. Gray, a lawyer who represented both women.
"If there had not been a Claudette Colvin, who did what she did, a lot of other events would not have occurred," Mr. Gray said. "It was a matter of each one building upon each other, and the rest is history."
The Montgomery bus boycott, launched in protest of Mrs. Parks' arrest on Dec. 1, 1955, modeled the nonviolent protests that defined the era and brought to prominence Dr. Martin Luther King Jr.
Bus tours, lectures and youth-oriented summits this week commemorated the boycott's 60th anniversary.
The two-day event was organized by the National Bar Association, the largest organization of African-American attorneys, and Tuskegee History Center to mark the occasion, which was headlined by an address on Tuesday by Democratic presidential front-runner Hillary Clinton from the pulpit of the historic Dexter Avenue Baptist Church.
Mrs. Clinton praised Mrs. Parks for the iconic role she played in the boycott.
"It's always struck me how, depending on the way you look at it, Rosa Parks either did something tremendous or something rather humble," Mrs. Clinton said, pointing out how often history is made with an ordinary act "by seemingly ordinary people doing something extraordinary."
"Our work isn't finished," Mrs. Clinton added. "There are still injustices perpetrated every day across our country, sometimes in spite of the law, sometimes, unfortunately, in keeping with it.
"It took the courage of so many, and among the most courageous were the lawyers who took on the challenges in the courts and in the streets," Mrs. Clinton said of civil rights leaders who were also attorneys, noting that she is herself a "recovering lawyer."
"They knew that segregation was a distortion of justice, not an expression of it. They also knew that sometimes lawmakers get it wrong and when that happens, it's up to lawyers and judges to make it right."
Turning to today's issues, Mrs. Clinton called for criminal justice reforms and an end to "mass incarceration," especially of African-Americans.
"There is something profoundly wrong when African-American men are still far more likely to be stopped and searched by police, charged with crimes and sentenced to longer prison terms for doing the same things as a white man," Mrs. Clinton said.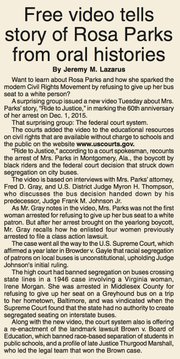 In a statement issued Tuesday praising Mrs. Parks' heroic stand against injustice, President Obama said, "Rosa Parks held no elective office. She was not born into power or wealth. Yet 60 years ago today, Rosa Parks changed America. Refusing to give up her seat on a segregated bus was the simplest of gestures, but her grace, dignity and refusal to tolerate injustice helped spark a Civil Rights Movement that spread across America.