RRHA leadership changes under cloak of silence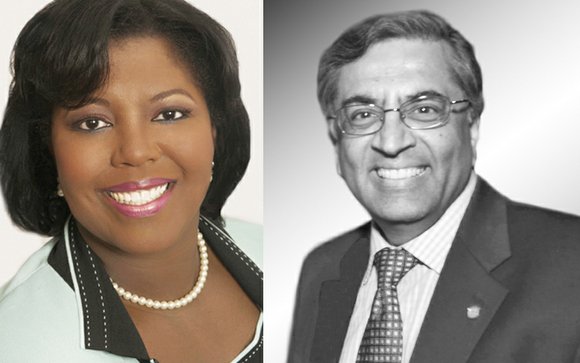 Adrienne E. Goolsby was described as a "proven leader ... with a remarkable track record" when she was lured from Chicago in 2012 to take over as the chief executive officer of the Richmond Redevelopment and Housing Authority.
But less than three years into her tenure, the 45-year-old Atlanta native is out and a retired Richmond development expert, T.K. Somanath, 69, has been installed temporarily as RRHA's top official as the search for Ms. Goolsby's successor begins.
RRHA's board has remained mum on the reasons for removing Ms. Goolsby from the helm of the agency that serves about 10,000 residents in about 4,000 public housing units it operates.
Sam Young Jr., the board chairman, described Ms. Gools- by's abrupt resignation only as a "mutual decision," code words usually used to describe a dismissal.
In a message to tenants, RRHA went further, stating that "the entire board felt it was time to go in a new direction with the leadership of our organization."
Previously a top executive with the Chicago Housing Authority, Ms. Goolsby's only statement came in two sen- tences included in the RRHA announcement of her departure: "I'm proud of the work we have accomplished at RRHA under my leadership. I leave knowing that this organization is on the right path for the future."
Tenant advocates such as Lillie Estes of Gilpin Court expressed disappointment, saying Ms. Goolsby represented "an uplift" for residents.
Marilyn Olds, who represents tenants on the RRHA board, would not comment on Ms. Goolsby's ouster, but agreed that the departed CEO had received high marks from residents. "She was well regarded by tenants," Ms. Olds said.
City Hall sources called her removal puzzling. One source said there had been talk that Ms. Goolsby was considered to be moving too slowly on several important initiatives.
The interim CEO, Mr. So- manath, is well known in development and affordable housing circles.
A civil engineer, he brings to the job 23 years of experience as president and CEO of the Richmond Better Housing Coalition. He led the nonprofit group's development of 1,600 affordable homes and apartment units in Richmond and surrounding counties until he retired in 2013.
A native of India and one of the founders of the Hindu Center in Chesterfield County, he previously directed RRHA's varied development projects for 18 years.
Mr. Somanath said Tuesday that he expects to serve as CEO about six months.
He said he plans to work with "a highly talented staff" to keep RRHA's operations moving smoothly, to carry on with the five-year strategic plan that Ms. Goolsby developed with the board and to ensure projects on RRHA's front burner move forward as expected.
That includes plans for the redevelopment of the Creighton Court public housing community in the East End — a top priority for Mayor Dwight C. Jones and a development in which Ms. Goolsby has been credited with playing an important role in securing the master developer.
Mr. Somanath, though, indicated that he would be advocating for the development to be "done right" rather than being rushed.