Personality: Maj. Daniel T. Fox III
2/12/2015, 9:06 p.m.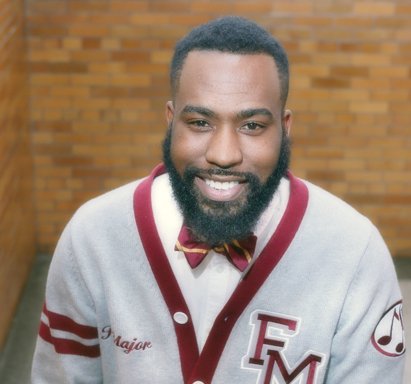 Maj. Daniel Tré Fox III seeks to open musical doors to students as others did for him when he was a student in Richmond Public Schools.
The 33-year-old vocal instructor at Franklin Military Academy in Church Hill sees the power of music as a bridge to uplift and mold young men and women.
That's one reason Maj. Fox says he expanded the musical horizons at Franklin by forming "FM Stereo," an a cappella student group, in November 2013.
At first he didn't know if the students would warm to the group, which harmonizes without instrumental accompaniment to the sounds of members snapping their fingers and clapping their hands while sometime soulfully swaying.
He said one student, DeShawn Payne, first expressed an interest and others followed.
"The rest is the present," Maj. Fox notes of the group, which now is comprised of more than a dozen students.
He said the group works hard to cultivate a unique sound, integrating melodies, harmonies and counter-melodies. "These sounds together make something beautiful," Maj. Fox says.
FM Stereo performs an entertaining array of songs, from jazz and gospel to pop, country and soul. Their repertoire includes the snappy rendition of Virginia Beach native Pharrell Williams' "Happy" and R. Kelly's "I Believe I Can Fly," both of which they performed to hearty applause at the Richmond NAACP Freedom Fund Gala Dinner and Awards Program last fall. "I tell the students that in order to be well-rounded, we have to do it all," Maj. Fox says.
The group performs around the area, with its next engagements slated for Thursday, Feb. 12, at the Interfaith Council of Greater Richmond Brotherhood/Sisterhood Youth Awards and Dinner at River Road Church, Baptist, 8000 River Road in Henrico County; and with the Norfolk State University Concert Choir at Franklin Military Academy, 701 N. 37th St, at 8 a.m. Friday, Feb. 13.
Maj. Fox says he became a vocal instructor because of the powerful examples set by two of his teachers at George Wythe High School on South Side — choir teacher Joyce Woolridge and band instructor David Corey.
"I want to help students find their place in this ever changing society just as these two amazing teachers did for me," he says.
"They were more than teachers to me. They were and are a part of my family. Their ongoing encouragement continues to make it possible for me to work hard and further enhance my skills in order to be a better teacher for my students," he adds.
Maj. Fox believes his mission is "to inspire students."
"Every child is capable of learning," he says.
He helps students envision things beyond the communities in which they live.
"I take the world around them and relate it to music, which guides students to a place where the lessons become an exchange of ideas," he says. "I believe I help them to see that life is more than what they see in their own neighborhood."
Here's a look at this week's Personality, Maj. Daniel Tré Fox III: