Serena beats Venus, continues streak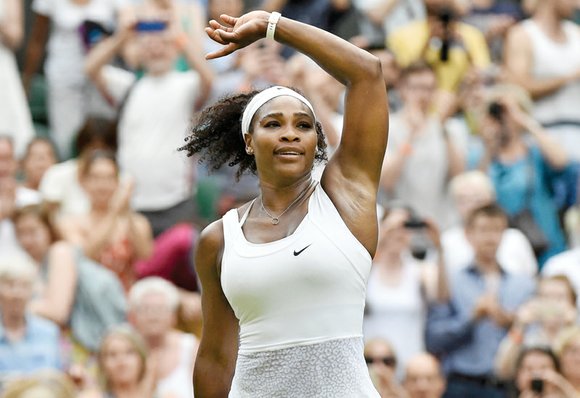 LONDON
The heavy hitting shook the ground and the volume would have raised the Centre Court roof had it been closed, as Serena Williams and Victoria Azarenka traded blows like a couple of prizefighters at Wimbledon on Tuesday.
A women's tournament that has seen title contenders fall feebly on the All England Club lawns finally witnessed two grand slam champions going toe-to-toe. It was a thunderous encounter more befitting a final match rather than a quarterfinal match like Tuesday.
No. 1 seed Serena eventually won 3-6, 6-2, 6-3 with her best tennis at this year's tournament so far to stay in line for a sixth Wimbledon title. Winning the title would complete the "Serena Slam," which is holding all four majors concurrently.
"I feel really vulnerable. I feel really vulnerable in a third set," Serena told reporters.
"At that point I kind of relax and whatever happens, happens."
Blocking her path to a first Wimbledon final since 2012 is Maria Sharapova after the Russian fought off feisty American CoCo Vandeweghe — the only unseeded player in a quarter-final lineup feww would have predicted at the start.
Sharapova won 6-3, 6-7(3), 6-2 to set up another crack at Serena who she has lost to 16 times in a row since 2004 — the year she beat the American to win her only Wimbledon title.
The two are scheduled to play 1 p.m. Thursday, July 9, on ESPN. The women's finals are scheduled to start 9 a.m. Saturday, July 11, also on ESPN.
"I haven't played Serena here in 11 years," fourth seed Sharapova, who famously beat Serena as a 17-year-old, told reporters.
"That will be an incredible moment for me to step out on Centre Court against her again."
Serena reached the quarterfinals with a 6-4, 6-3 fourth round triumph Monday over older sister Venus.
"It's hard to feel excited about (beating) someone you root for all the time no matter what and you love so much and is your best friend in the world," Serena said as she inched closer to a 21st major.
"It's never easy, but you just play for the competition and enjoy the moment."
Venus, the No. 16 seed, praised her sister. "She's a champion. What else could you say about that? The ultimate."
Their mother, Oracene, a regular in the players' box for all of her daughters' battles, was missing from Centre Court. And the match lacked the usual roars and swinging fist pumps that have long been Serena's hallmark.
Instead, the 68-minute blur started with Serena rattling through the first eight points, which prompted one male voice to shout, "Come on Williams" to laughter from the Centre Court crowd.