Survivor
U.Va. honor student talks arrest, future
Martese Johnson still has two scars on his forehead and one under his left eye.
The rising fourth-year University of Virginia honors student also bears deep emotional wounds, for which he has undergone counseling.
The scars are reminders to Mr. Johnson of what can happen to African-American males when they are confronted by white law enforcement officers in what would seem to be even the most routine of circumstances.
Three months after he was slammed face first onto the pavement during a questionable arrest by three white Virginia Alcoholic Beverage Control officers outside a Charlottesville pub, memories of that night still haunt him.
"I don't think I'll ever fully get past it," Mr. Johnson told the Free Press on Tuesday. "I think it will last the rest of my life.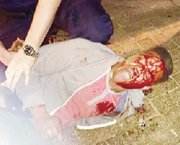 "Regardless of what I do, someone will always know me for this incident, personally or professionally," he added.
Mr. Johnson was charged with public intoxication and obstruction of justice — both misdemeanors — after his violent takedown on March 17. Prosecutors announced on June 12 that they were dropping the charges.
Charlottesville Commonwealth's Attorney Dave Chapman said Wednesday that he dropped the charges after determining Mr. Johnson "had done nothing wrong" before ABC agents confronted him to determine if he was using a fake I.D. or was intoxicated.
He said he could have charged Mr. Johnson with resisting detention, but decided that trying to slap the young man with a criminal record would "not be right."
Mr. Johnson, who turned 21 Wednesday, spoke from Washington, where he is completing an internship this summer with the Center for American Progress, a progressive think tank. He said he focuses on issues pertinent to millennials, such as criminal justice reform, climate change and campus sexual assault.
Mr. Johnson discussed the night of his very public arrest.
"I was not drunk," Mr. Johnson said.
Images of his bloodied face spread via social media, sparking local and national outrage and demonstrations.
Mr. Johnson said that at the time, he was well aware of the highly publicized deaths of black males by law enforcement officers in locales such as Ferguson, Mo., New York City, Cleveland and North Charleston, S.C.
"I look at those situations and feel blessed I'm still alive," he said in retrospect. "When they took me down, I could have hit the pavement in a different way and things could have turned out much differently."
Mr. Johnson said his attorney, Daniel Watkins of the Richmond-based Williams Mullen law firm, sent him a text message before they were to meet last week to go to the Charlottesville court.
"At first, I thought something had gone wrong," Mr. Johnson said. "When he told me the news, I paused for a second. But because I was really excited, I had to scream."
Mr. Watkins told the Free Press shortly after a press conference outside the courthouse last Friday, "I'm happy with the result. We're happy that justice was served."
George Keith Martin, rector of the University of Virginia, concurred.