Average-sized players make big splash in NBA
Fred Jeter | 6/27/2015, 12:47 a.m.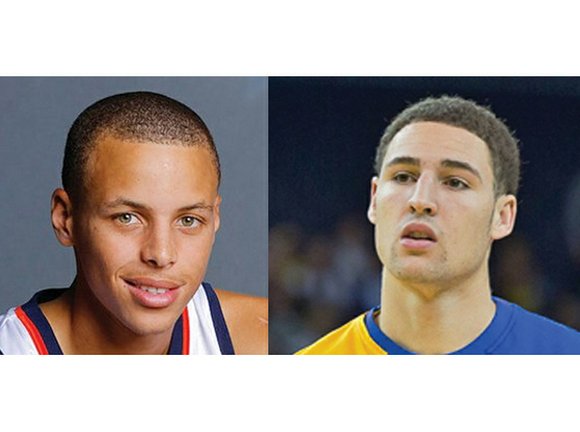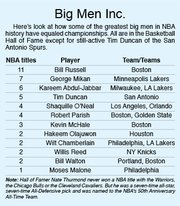 History tells us that big men rule the NBA.
But that history book may be in the process of being rewritten.
The Golden State Warriors dominated the world's toughest league this season with a different recipe than many other teams.
Led by "Splash Brothers" Stephen Curry and Klay Thompson, the Warriors won a whopping 83 games — regular season and playoffs combined — en route to the championship title.
The champs' big men — Australian Andrew Bogut and David Lee, who is in his 10th season out of Florida — while serviceable, will never need to compose any Hall of Fame induction speeches.
Each "big" averaged eight points per game.
By comparison, Curry and Thompson combined to average 45.5.
In rolling to its first title since 1975, the Warriors set a playoff record with 215 successful three-point "splashes."
The previous mark of 203 was set last year by the NBA champion San Antonio Spurs. And, the fourth highest before this season was 186 by the 2014 finalist Miami Heat.
Does anyone spot a trend here?
More average-sized players are playing a larger role in the NBA, although it should be noted the 2014 San Antonio Spurs had Tim Duncan, one of the sport's all-time top lost-post operators.
The Warriors, with no one resembling a Duncan, made 883 of 2,217 three-point attempts, or 40 percent, during the season.
Curry shot .443 from beyond the arc and Thompson shot .439. The NBA's 3-point semicircle measures 22 feet from the basket in the corners and 23 feet, 9 inches at the top of key.
You don't need to be a Calculus professor at MIT to understand the numbers. Threes beat twos.
Making 40 percent of 3-pointers is the same as making 60 percent of 2-point shots, and no team has ever hit 60 percent overall for a season. The highest ever is .545 by the 1985 LA Lakers.
The Warriors never won a title with the most prolific 2-point shooter of all time, Wilt Chamberlain. But thanks to arguably the greatest 3-point launcher in annals, they have the right to hang a championship banner in the Oracle Arena in Oakland, Calif. 
The Warriors were brilliant from start to finish, going 67-15 in the regular season and 16-5 in the playoffs.
During the regular season, Curry connected on 286 3-pointers, breaking the standard of 269 set by Seattle's Ray Allen in 2006.
In the past three seasons, Curry has 819 triples, not counting playoffs.
The former Davidson College star has 1,191 treys for his six-year career and has his sights set on Allen's all-time mark of 2,973, which was established over 19 campaigns.  
The 6-foot-3, 190-pound Curry had a co-star during the Warriors' wondrous run. 
Backcourt mate Thompson added 239 3-pointers after netting 223 in 2014 and 211 in 2013.
With an eye on repeating in 2016, the Warriors have a winning formula that appears sustainable.
The NBA is undergoing a makeover, shifting from power to precision. To many, it's a positive development.
Consider this:
From a tutor's standpoint, it's more realistic to try and teach a youngster to shoot like Curry than it is to "coach" him to grow to be as big as Shaquille O'Neal.