VSU women bring home CIAA crown
Fred Jeter | 3/5/2015, 2:24 p.m. | Updated on 3/6/2015, 2:24 p.m.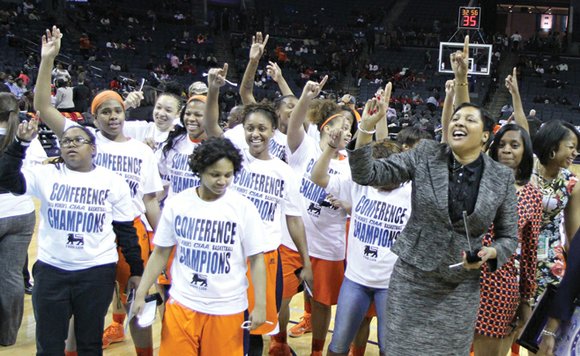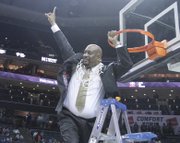 Virginia State University's women's basketball team picked the right time and right place for its best basketball of the season.
The Trojans not only won their first CIAA tournament since 2002, they won in a blowout, routing Lincoln University 73-49 at Charlotte's Time Warner Cable Arena.
In the semifinals, VSU drubbed Shaw University 69-47, denying the Bears a shot at a fifth consecutive crown.
Now VSU will carry an overall 20-9 record into the NCAA Division II Atlantic Region Tournament. Pairings will be announced March 8.
Based on history, few could have predicted VSU would defeat
Lincoln with such gusto. On Jan. 21 during regular season play, Lincoln defeated VSU 72-61.
VSU's senior 6-foot center Tiffanie Adair was named the CIAA Tournament Most Valuable Player.
The transfer student from North Carolina A&T University scored just four points in the final, but grabbed eight rebounds.
Her long-arm defense largely was responsible for Lincoln shoot- ing 27 percent (17-63).
Senior guard Da'Shae Jones had 11 points, six steals and three assists and was named to the All-Tournament team.
Cana Marriott had 14 points and connected on four of VSU's nine 3-balls. DeAnna Waters added 15.
Virginia Union University's Lady Walker, a sophomore, also made the All-Tournament team.
The Trojans' rooting section included R&B singer Tank. The entertainer, whose given name is Durrell Babbs, cheered on the
players while wearing an orange and blue VSU T-shirt.