Power in the word
Cindy Huang | 3/19/2015, 10:57 a.m.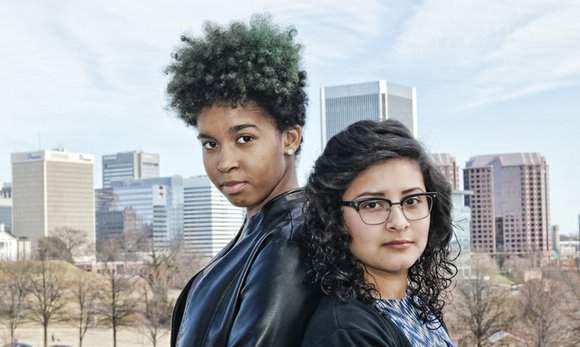 Performing spoken word helps 15-year-old Leslie Reyes deal with the gruesome death she witnessed at age 9 of a 16-year-old friend.
With a steady voice, Leslie tells a packed audience of more than 100 people that she watched her best friend die from gunshot wounds in El Salvador. She tells the room of mostly strangers about the "blood-covered gauze and stitched up holes on his shoulder and leg."
She describes in urban poetry the numbness of her own flesh.
Spoken word helps young people share their thoughts, feelings and angst
"I never believed I'd see a piece of my life lying on one of the hospital beds, waiting his life away …"
The Huguenot High School sophomore is one of many Richmond teenagers who uses spoken word to share the pain and frustration of life. The freestyle, emotive poetry or prose, performed nightly at venues across the city, allows young people to inject their perspectives on critical social and political issues into local and national discussions.
Leslie, a self-diagnosed spoken word addict, said it's a relief to be able to share her haunting memories.
Spoken word's appeal is its accessibility. It requires only a pen and paper — and the courage to get on stage to share your thoughts in word.
Jer'mon Walker, a senior at Hanover County's Patrick Henry High School, delivered a scorching critique of race relations in America during a recent performance.
"A young black lawyer from Mobile, Alabama, shouldn't have to re-teach the Constitution to a society who wrote it," he spat into the microphone, talking about a Civil Rights-era activist who was jailed for his fight for equal justice.
The audience grunted in agreement.
His voice was measured and powerful.
Eva Chenoweth, an Open High School student, defended feminism through her spoken word.
"Feminism is not telling women to stop being irrational over what could happen, because catcalls are just compliments…"
And 15-year-old Mysia Perry, also an Open High student, performed a letter to America that spelled out her fears of growing up in a country plagued with racial inequality.

"I don't want to have my own baby boy, watch him love and learn, make memories and enjoy him. America, I don't want to have my own boy — fall in love with his smile or his laugh — just to have him taken from me, wrongfully, and justice never be reached. America, please!"
Young people like 17-year-old Jer'mon have found their voice and a strong sense of identity through spoken word.
"It's really like taking my heart and shoving it in the ears of the audience," Jer'mon told the Free Press. "Our generation is lacking in expressing their intimate feelings about the problems with the nation nowadays."
Jer'mon said he's drawn to the style and freedom of spoken word, where there is no standard for chorus, beat or rhyme.
For Leslie, it's the pauses — or the moments between the words — that give the genre its power. It is even more gripping than music.