Teaching healthy eating at Woodville Elementary
5/22/2015, 2:11 p.m. | Updated on 5/22/2015, 2:53 p.m.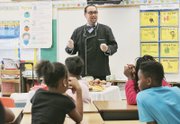 Free Press executive Raymond H. Boone Jr. talks up healthy foods Monday at Woodville Elementary School to an audience of students, and has plenty on display for them to see and taste. A culinary school trained chef, he was a guest presenter at a session of Project HERO, an after-school program sponsored by the Commonwealth Chapter of The Links Inc. Begun in 2012, the program promotes healthy living, encourages reading and provides arts and cultural enrichment for about 20 youngsters who attend the East End school. The session, led by Allison Lawrence Jones, also provided students with recipes for heart-healthy snacks that can be made at home.