Pope Francis draws crowds, gives hope during historic visit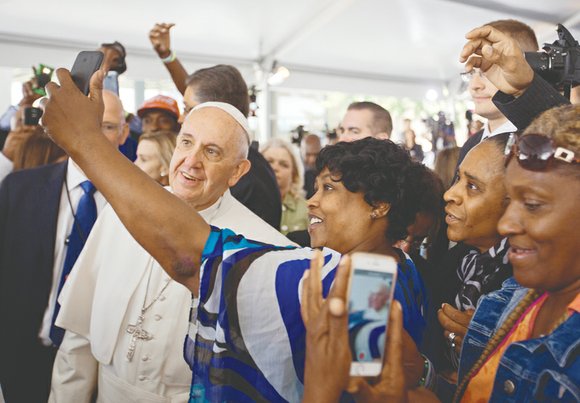 Pope Francis dove into some of the United States' thorniest political debates during his historic six-day visit by urging the world's wealthiest nation to welcome immigrants, end homelessness and do more to address climate change.
Sometimes his political messages were blunt, like when he pleaded before the U.S. Congress for Americans to end "hostility" toward immigrants. Other times, they were more subtle, like the climate-conscious pope's decision to ride around in a tiny Fiat rather than a gas-guzzling SUV.
While Vatican officials said the pope was only re-stating church social teachings and not making political statements in his first U.S. visit, many in the public and across the political landscape saw it differently.
Among them, 42-year-old Gabriela Muñoz of Brooklyn, an undocumented immigrant from Mexico, who said the pope's comments on immigration had given her "a lot of hope and faith."
"Even if it's a small thing, it has to have touched the heart of congressmen," she said.
But in an acutely polarized Congress, it was unclear if lawmakers' minds were changed by Pope Francis' words in Washington or at the United Nations, where he condemned the "boundless thirst" for wealth and power.
Shortly before arrival, the pope denied he was a leftist, despite his criticisms of the excesses of capitalism. His speeches gave both Democrats and Republicans fodder to support the intense partisan battles that define modern Washington.
On some matters, he likely arrived too late to make a difference. The first Latin American pope reiterated, in a veiled reference, the Roman Catholic Church's opposition to abortion and defended traditional notions of the family in a nation where gay marriage is now the law of the land.
Beyond the halls of power, the immensely popular 78-year-old pope made numerous stops in Washington, New York City and Philadelphia to commune with the people, capping the visit with a huge open-air Mass in Philadelphia for hundreds of thousands of people last Sunday.
While in New York, he met with dozens of youngsters during a visit to Our Lady Queen of Angels School, a Catholic school that serves nearly 300 mostly African-American and Latino children in East Harlem. The excited students held up rosaries, flags and cell phones to snap pictures and selfies with the beaming pope when he arrived.
"Life means 'getting our feet dirty' from the dust-filled roads of life and history," the pope told a group of prisoners he visited Sunday morning. "All of us need to be cleansed, to be washed, all of us, and me in the first place."
Pope Francis emphasized the plurality of faith, taking part in a service with representatives of six other religions at the site of New York's former World Trade Center towers, which were destroyed in the Sept. 11, 2001, attacks.
He repeated the call made in the first-ever papal encyclical to focus on the environment, "Laudato Si," praising President Obama for his actions on reducing air pollution while urging Congress and world leaders at the United Nations to do more.