U.S. greets pope
Free Press wire reports | 9/25/2015, 7:40 a.m. | Updated on 9/25/2015, 7:40 a.m.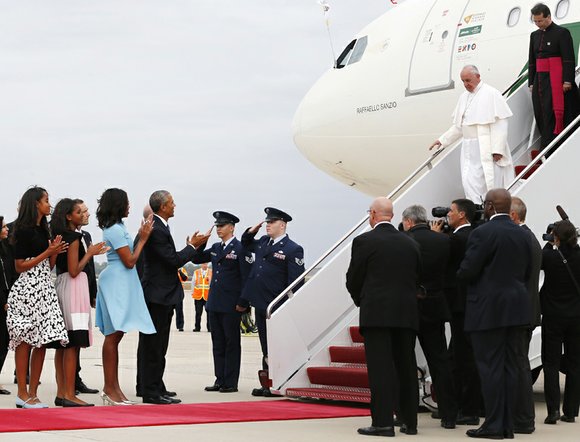 Pope Francis urged the United States to help tackle climate change and touched on other divisive U.S. political issues such as immigration and economic inequality on his first visit to the world's richest nation.
In a speech Wednesday on the White House South Lawn, the Argentine pontiff — known as "The People's Pope" — lauded President Obama's efforts to reduce air pollution, months after Pope Francis made the environment one of his top issues by issuing a landmark encyclical letter to the church.
"It seems clear to me also that climate change is a problem which can no longer be left to a future generation. When it comes to the care of our common home, we are living at a critical moment of history," the pope said at a welcoming ceremony.
President Obama, whose plans for a climate change bill were thwarted in Congress early in his presidency, said he shared the pope's concerns about the environment.
"Holy Father, you remind us that we have a sacred obligation to protect our planet — God's magnificent gift to us. We support your call to all world leaders to support the communities most vulnerable to a changing climate and to come together to preserve our precious world for future generations," the president said.
In an era of renewed racial tensions in the country, the 78-year-old pope invoked the name of civil rights leader, the late Dr. Martin Luther King Jr., to make points about the environment and equality.
Also, in an apparent nod to the fierce debate in the United States about illegal immigration, Pope Francis described himself as the son of an immigrant Italian family in Argentina. "I am happy to be a guest in this country, which was largely built by such families," he said at the White House.
Speaking later to American bishops, Pope Francis acknowledged the sexual abuse scandal that has tainted the Catholic Church in the United States for years by saying these "crimes" should "never be repeated."
As Washington streets were closed and federal workers stayed home, about 15,000 people gathered in bright sunshine on the South Lawn. They heard the pope depart from his usual practice and give a speech in English.
Pope Francis arrived on Tuesday at Joint Base Andrews in Maryland, kicking off his first visit to the United States, where between 68 million and 81 million people are Roman Catholic, including more than 3 million black Catholics, according to denomination surveys.
President Obama, First Lady Michelle Obama, their daughters, Malia and Sasha, and Mrs. Obama's mother, Marian Robinson, shook the pope's hand after he descended from the plane onto a red carpet. Vice President Joe Biden and his wife, Jill, also welcomed the pontiff.
An excited crowd of Catholic dignitaries and local Catholic schoolchildren were also there to greet him. Waiting for the pope to step off his plane, the crowd erupted into cheers such as, "Ho ho, hey hey, we love Pope Francis every day!"
The pope drew more cheers when he left the airport in a small, Italian-made Fiat.