Personality: Maria Fatima Crenshaw
Spotlight on AKA Sorority's 9th Annual Sauté and Sizzle benefitk
10/16/2015, 8:38 p.m.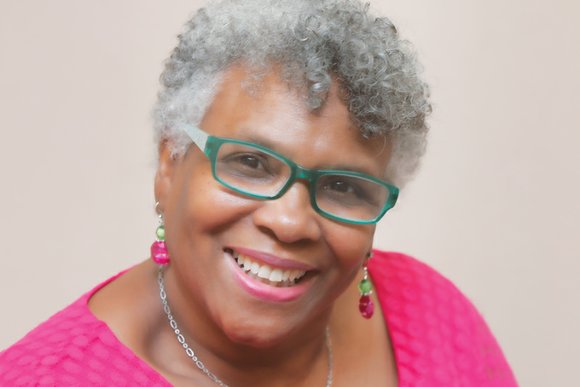 Maria Fatima Crenshaw loves to cook.
On a scale of one to 10, with 10 being tops, the Richmond resident rates herself a nine in preparing scrumptious dishes.
Among her favorites, she loves to serve fried chicken and pastelillos, also known as Spanish meat pies.
On Saturday, Nov. 7, Ms. Crenshaw will take a seat and enjoy tasting the best that others have to offer for a good cause.
The occasion: The 9th Annual Sauté and Sizzle: Richmond Men are Cooking benefit from 7:08 to 11:08 p.m. in the Old Dominion Building at Richmond International Raceway, 600 E. Laburnum Ave., in Henrico County.
Ms. Crenshaw is president of the Rho Eta Omega Chapter of Alpha Kappa Alpha Sorority, the chapter of 96 members that is organizing the benefit event. Tickets are $25, with proceeds going toward the sorority's student scholarships and community service projects, including mentoring programs, health promotions and school supplies for youngsters.
Ms. Crenshaw also explains the event's :08 start and finish times: It's a tip of the hat to the sorority's 1908 founding date, she says.
About 40 men of all backgrounds — attorneys, construction workers, teachers and advertisers among them — will cook up 2-ounce samples of dishes of their choice, ranging from Jambalaya, to shrimp and grits to chicken wings to cake, punch and appetizers, Ms. Crenshaw says.
Five judges will choose the winner, who will receive a cash prize and trophy, she says.
Live entertainment by J Baxter & The S.A.U.C.E. Band (Ms. Crenshaw says the band's name is coincidental to the event) and a silent auction also are part of the event.
Last year's event raised more than $10,000, says Ms. Crenshaw, whose two-year term as president began in January.
Many of the chefs really get inspired by the contest, creatively decorating their taste tables to compete for the first-place title.
For event details, go to www.reoaka.org. If you'd like to compete as a chef, email reosautesizzle@gmail.com.
This week's Personality is really cooking. Let's meet Maria Fatima Crenshaw:
Occupation: Retired director of instruction with Richmond Public Schools.
Other community involvement: Sacred Heart Catholic Church.
Date and place of birth: May 22 in Munich, Germany.
Alma maters: Radford University, bachelor's degree; Virginia State University, master's degree.
Family: Husband, Larry (deceased); sons, Anthony, Bryan and Christopher.
Who came up with "Sauté & Sizzle: Richmond Men Are Cooking" idea: Sada' Hill, a past president, and Karen Hicks.
Past winners: Marc Rene' (2014) turkey wings and thighs in sauce with rice; Jameel Staton (2013) smoked macaroni and cheese and smoked chicken wings.
Will participants wear chef attire: Yes. White chef hat, white shirt, black pants and black apron.
Event fundraising goal: 800 guests and 40 chef participants.
What drives me: My family and my faith. My passion is to contribute to my community and the world to make it a better place to live.
Three words that best describe me: Helpful, resourceful and knowledgeable.
How I find time for what I do: I plan and manage my time and I especially limit the number of things I am involved with.