Personality: Wendi White
Spotlight on co-chair of AKA's 'Sauté & Sizzle: Richmond Men Are Cooking' fundraiser
10/18/2019, 6 a.m.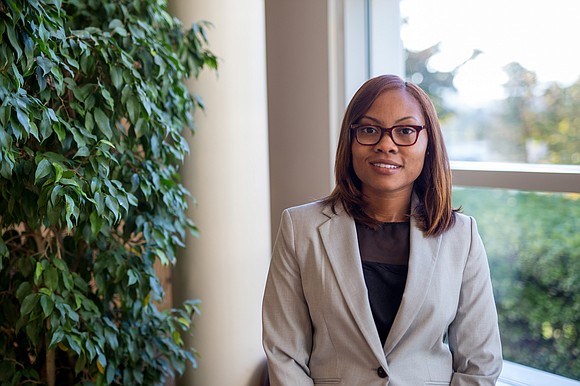 Wendi White wears many different hats.
She's preparing for her wedding in 2020 and managing the life of a 5-year old who has just started kindergarten. She juggles her full-time job at Rolls-Royce in Prince George County with grad school studies at James Madison University.
And right now, she's serving the Rho Eta Omega Chapter of Alpha Kappa Alpha Sorority as the Fundraising Committee co- chair of its 13th Annual "Sauté and Sizzle: Richmond Men Are Cooking" fundraiser.
The event, which hosts an average of 800 attendees every year, was the creation of former Rho Eta Omega Presidents Sadá Hill and Karen Hicks, who were inspired by a visit to the "Philly Men are Cooking" event in 1996 to establish a similar fundraiser in Virginia's capital city, one that draws in a public eager for good food and generates money for good causes.
Thirty-five men who cook, including Derrick Thomas of The Thomas Law Firm, retired accountant Dwain O'Neal, Dominion Energy's Jason Holland and Prince George County schoolteacher Celvin Richardson, are set to showcase their culinary skills with a suite of dishes ranging from shrimp and pasta to pulled pork, crab dip, meatballs and chili for those in attendance to dine on and vote on. The fundraiser also will feature a silent auction, line dancing and music by DJ King Tutt.
For Ms. White, who joined AKA in 2007 while attending North Carolina A&T State University and has served in multiple leadership roles since joining Rho Eta Omega Chapter in 2013, the experience with this year's fundraiser has been smooth sailing.
In addition to juggling her professional and personal responsibilities, Sauté and Sizzle requires Ms. White to balance television appearances, advertisement rollouts, booking entertainment and publicity and ticket management.
Ms. White cites the efforts of two other co-chairs, Fran Randall for the sponsorship and chef subcommittees and Kiera Lee with logistics and decorations, keeping the work efficient and transparent, as each operates in "a lane that we're strong in."
The community involvement, to Ms. White, is a key differentiator for Sauté and Sizzle from other Rho Eta Omega fundraisers, and a factor that's key to the success of the $17,000 fundraising goal set for this year's event.
The proceeds of this event will support Richmond high school students through scholarships and give back to the community through five international programs the sorority supports, including HBCU For Life: A Call to Action, Women's Healthcare and Wellness, and Global Impact.
Last year's fundraiser collected $38,000 in donations before expenses, an amount that speaks to the sorority's strong connection to the Metro Richmond community.
"I think what draws a lot of people to Sauté and Sizzle is the fact that they know that we give out $17,000 in scholar- ships every year, and it's going back into the community," Ms. White says.
"It's just an overall good time."
Meet this week's Personality, who has a full plate fundraising for the 13th Annual "Saute & Sizzle: Richmond Men Are Cooking," Wendi White:
Occupation: Financial analyst at Rolls-Royce in Prince George County.