Ministry is 'a family business'
Joey Matthews | 9/4/2015, 5:56 a.m. | Updated on 9/4/2015, 5:56 a.m.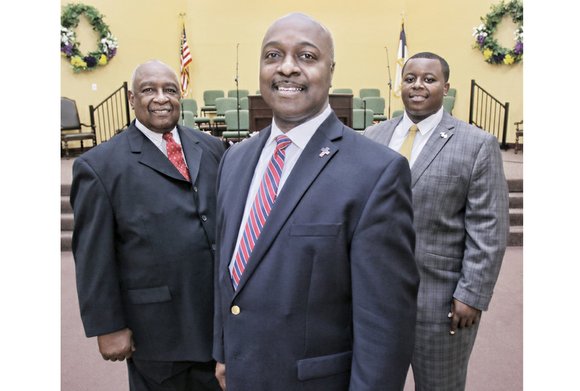 It's a family affair at Southside Baptist Ministries on South Side.
Dr. Lonnie Stinson, 65, is the founder and senior pastor of the church at 5515 Bryce Lane.
His wife of 44 years, Terry, directed the church's elementary school, Southside Baptist Christian School, before retiring earlier this year.
Their son, the Rev. Reginald Stinson, 43, is assistant pastor and music minister.
His son, LeVon, 19, coaches the boys' basketball team at the school, sings in the church choir and plays the trumpet.
That's only the start.
Eight other members of the family are on staff at the church.
"I believe ministry is a family business," said Dr. Stinson, who founded the church 26 years ago out of a South Side hotel. "In the Bible, David passed on his ministry to his son and he passed it on to his son. In biblical days, they always handed their ministries to the next generation.
"That's what I want to do here for our family. We have fun here, we relax here and we work and worship here. It's all about the ministry to us."
The church has 125 members despite a recent split.
Rev. Stinson said he's "next in line" to lead the ministry after his father retires.
"As a child, I was raised to fit into the ministry," he said. "In the second grade, my father bought me a trumpet for a Christmas present. He was vision casting for me to play it at the church one day, which I now do."
He credits his father with molding him and others in the family to be a part of the ministry.
"Dad is such a personable person," he said. "He lives what he preaches. What he preached from the pulpit, I saw at home. He encourages all of us to be involved here in whatever way we can."
LeVon Stinson attends Randolph-Macon College in Ashland on an A. Purnell Bailey Pre-Ministerial Scholarship, given to students who plan to work in Christian ministry after they graduate. A rising sophomore, he is majoring in business management with designs on heading to law school to become an attorney. "I also want to be a preacher one day," he said.
During the academic year, he commutes to college and gets back to Southside Baptist early each afternoon to perform his various jobs.
"I'm here because I want to help others learn about the love of Jesus," he said. "It gets busy, but that's the way I like it."
Staying on the go for the Lord apparently is the family credo.
Dr. Stinson's daughter, Kimberly, works in day care, teaches sign language and coaches track and cheerleading.
His son-in-law, Herb Delaney, is director of the school and oversees church ushers.
His nephew, Aaron, manages the church's thrift store, Southside Cares Thrift Center, in the 3800 block of Jefferson Davis Highway.
Aaron's wife, Tonya, works in the nursery.
One of their daughters, Danielle, teaches in the elementary school, including sign language, and coaches volleyball.
Another daughter, Alexyss, teaches physical education and advises the school's Future Business Leaders of America chapter, which has won dozens of trophies at regional, state and national competitions.
Rev. Stinson's wife, Valerie, teaches in the elementary school, directs the church nursery and sings in the choir.
Their daughter, Taeylor, works in the nursery and sings in the choir.
Charleen Frederick, a member of the church's administrative staff who is from St. Vincent in the Caribbean and graduated in 2010 from the church school's International Student Program, said she loves the family atmosphere at Southside Baptist Ministries.
"This is a caring ministry," she said. "You're treated like family here, whether you're related or not."