Former ROC seeing renewal, growth after scandal and leadership change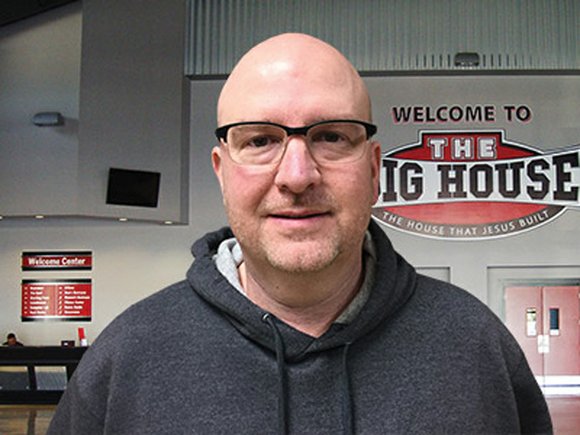 Dr. Robert J. "Pastor Rob" Rhoden said he has seen a sprinkling of former members of the Richmond Outreach Center return over the past few months to attend worship services since he quietly was named as the church's new senior pastor in January.
The church also was renamed Celebration Church and Outreach Center last June.
"These are people who have wonderful hearts and loved serving here and they're beginning to come back," the 46-year-old Richmond native and longtime Assemblies of God said Tuesday from the church at 5501 Midlothian Turnpike.
He said the church also has welcomed about 10 new visitors each week to its Saturday night worship service.
The affable pastor is aware that many community members are watching to see how he leads the church, formerly known as the ROC, in the wake of the sex scandal involving its former minister, Pastor Geronimo "Pastor G" Aguilar, that shocked congregants and rocked the city's faithful.
Mr. Aguilar was sentenced in October 2015 to 40 years in prison after a Fort Worth, Texas, jury convicted him of sexually assaulting two children in the 1990s while he was a youth pastor at their church and living in their family's home.
Mr. Aguilar and three other pastors resigned from the former Richmond Outreach Center megachurch in June 2013, about a month after he was formerly charged with seven felony counts in the sex abuse cases.
"The church was not on trial," Dr. Rhoden said of the repercussions on the church that once drew high praise from other faith leaders, politicians, police, educators and others. "Geronimo was on trial. The people who went to church here were hurting."
In June 2015, the church's board of directors voted to change the church's name and to hire Pastor Rob's father, Dr. H. Robert Rhoden, as its interim senior pastor through the transition.
A longtime Assemblies of God minister and leader, the elder Rhoden has spent the past several years helping numerous churches during difficult times of transition in pastoral leadership. At Celebration Church, Dr. Rhoden and Pastor Rob alternated leading worship services.
Pastor Rob said he was "on loan" for six months from Richmond's Commonwealth Chapel, where he was its executive pastor. He said the Celebration Church's leadership approached him during that period and asked if he would consider taking the full-time position as senior pastor.
"God was already stirring that in my heart," he said of the eventual spiritual partnership that was sealed with Commonwealth Chapel's blessing.
Pastor Rob knows he, his staff and leadership team have lots of work ahead as they seek to regain the trust of the community.
At its peak, about 10,000 people came each week to the church that was founded in 2001 and had more than 100 ministries in addition to its worship services.
Those attendance numbers fell dramatically in the aftermath of the sex abuse case.
Today, Pastor Rob said, about 700 people come to the church on its primary ministry day on Saturday through its Whosoever Bus Ministry for Kids that brings inner-city children to services, the Chosen Youth Service and regular Saturday night worship service.