Geronimo Aguilar gets 40 years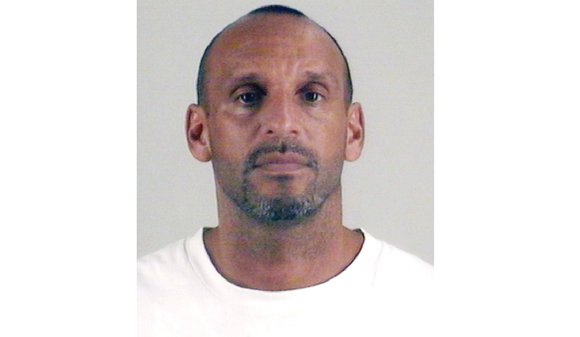 Forty years.
That's how much time former Richmond Outreach Center Pastor Geronimo "Pastor G" Aguilar will serve in a Texas prison for sexually assaulting two sisters — ages 11 and 13 — while he lived in their family's home in Fort Worth and served as a youth pastor at their church in the mid-1990s.
Judge Louis Sturns sternly sentenced the somber-faced Mr. Aguilar, 45, Tuesday in a Fort Worth courtroom.
The former ROC megachurch pastor has been in the Tarrant County Jail since June 24 when a jury convicted him of seven felony counts.
Before he announced the sentence, Judge Sturns admonished Mr. Aguilar, saying he had been "blessed" with a ministerial gift, but had wasted it.
The judge acknowledged the former pastor had done some good in the Richmond community through the church's multitude of ministries, but told him a true man of God would not have taken advantage of young girls.
Outside the courtroom, Nancy Mohr, one of Mr. Aguilar's victims who is now an adult, told WRIC TV8 reporter Kerri O'Brien, "We're super grateful. We were grateful just for a guilty verdict three months ago, so 40 years, that's a long time.
"I mean, we're shocked," she added, "but we're just grateful. I couldn't have asked for more."
Ms. Mohr testified at the trial that she had suffered deep emotional stress as a result of Mr. Aguilar's assault and struggled to live a normal life.
Mr. Aguilar won't be eligible for parole for 20 years. He showed little emotion after he was sentenced, but he gave a thumbs-up to his relatives as he was led from the courtroom.
A member of Mr. Aguilar's defense team, David L. Carlson of Henrico County, told the Free Press on Tuesday night he could not attend the sentencing because his office was notified late of the date and he already had a prior legal commitment scheduled in Richmond.
"Obviously, I'm not happy," he said of the sentence. "I've been practicing law for 35 years, and I've never seen anything like it in my life."
Asked for specifics, he said, "I'm talking about the whole process."
He promised "a very vigorous appeal."
The sentencing completes the meteoric fall from grace for Mr. Aguilar, who once was respected by city and state officials, law enforcement, educators, business leaders and other faith leaders in the Richmond area.
Mr. Aguilar led the ROC from its humble start in 2001 in a South Side warehouse building to its home at 5501 Midlothian Turnpike, where it attracted more than 1,000 worshippers each week to its services and had more than 100 ministries to help the community.
Texas prosecutors wanted a life sentence for Mr. Aguilar, who was convicted on two counts of aggravated sexual assault of a child, which each carry a maximum sentence of life in prison. He also was convicted of three counts of sexual assault of a child under 17 and two counts of indecency with a child, a second-degree felony that carries a maximum sentence of 20 years.
Before handing down the sentence, Judge Sturns heard a day and a half of testimony from people who know Mr. Aguilar.
Prosecution witnesses called him a predator who sexually abused teenage and pre-teen girls and carried on affairs with married women who were members of his churches.
Defense witnesses countered that he had done so much in the Richmond community to help the poor and provide homes where drug-addicted people and troubled youths could find salvation.
Mr. Aguilar was arrested in Richmond on the charges in the spring of 2013 and resigned from the South Side church a few months later amid allegations he also had affairs with women who worked at the church and female congregation members.
The ROC since has been renamed Celebration Church and Outreach Ministry as it seeks to move beyond the scandal.
Dr. Rob Rhoden, a longtime pastor and executive in Assemblies of God ministries who specializes in turning around troubled churches, is serving as interim senior pastor as the church seeks a full-time leader.
Church officials did not return a request for a comment on Mr. Aguilar's sentencing.