Candidate forum draws 12 seeking to become mayor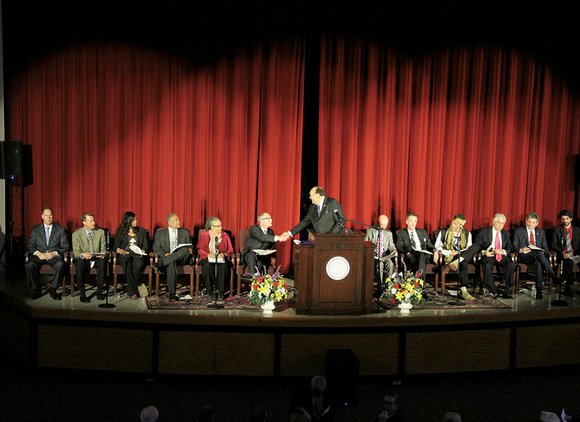 Richmond City Council President Michelle R. Mosby pledged "to renew a sense of trust in government."
Jack Berry, former director of Downtown booster group Venture Richmond, said, "I will make sure that the first dollar goes to the schools, not the last dollar."
City Council member Jonathan T. Baliles, 1st District, said the city must formulate a long-term spending plan with Richmond Public Schools to address its comprehensive needs. However, he added, "Until we fix the city's finances and finance department, we're flying blind."
And his council colleague, Chris A. Hilbert, 3rd District, emphasized, "It's time to get back to the basics and support everyday people."
They were among 12 people seeking to succeed Dwight C. Jones as Richmond's mayor who participated April 6 in a spirited standing-room-only candidate forum before more than 800 community members in Coburn Hall on the Virginia Union University campus.
One of the declared candidates, community activist Rick Tatnall, echoed what many in the room and around the city believe, when he said, "This is the most important election the city of Richmond and Richmond region have ever seen."
The event was organized and moderated by former Gov. L. Douglas Wilder, also a former Richmond mayor who currently serves as a Distinguished Professor at Virginia Commonwealth University's L. Douglas Wilder School of Government and Public Affairs, and Robert "Bob" Holsworth, a political commentator and member of VCU's Board of Visitors.
In opening remarks, Mr. Wilder told the audience, "We invited everybody we heard of who thought they might be running. We did not exclude anyone."
Others who participated in the forum included Joseph D. "Joe" Morrissey, attorney and former member of the House of Delegates; architect Lawrence E. Williams; Bruce Tyler, architect and former 1st District councilman; Lillie Estes, a public housing activist; Chad Ingold, an Open High School teacher; community activist Alan Schintzius; and businessman Brad Froman.
Virginia Secretary of Administration Levar Stoney, who many expect to toss his hat into the race before the June 14 candidate filing deadline, did not participate.
Who will actually qualify to run for mayor, however, is still up in the air.
City voter registrar Kirk Showalter told the Free Press this week, "No candidate has yet to file all the necessary paperwork to qualify for the office of mayor."
Among other requirements, a candidate must get 500 signatures of registered voters, with at least 50 signatures from each of the city's nine council districts.
The Free Press asked some of the audience members prior to the event what they consider as the top priority for the next mayor.
"I want the next mayor to emphasize fixing the schools and making them better," said Larry Brooks, a retired computer salesman. "I also want them to focus on improving the city's infrastructure."
Retired educator Dorothy Drake said the next mayor should "take to heart our children by improving the school system" and help more young people "get the skills they need to meet they challenges they will face in the workplace."