Romance in Rio
Richmond's Queen Harrison says 'yes' to silver medalist at Olympics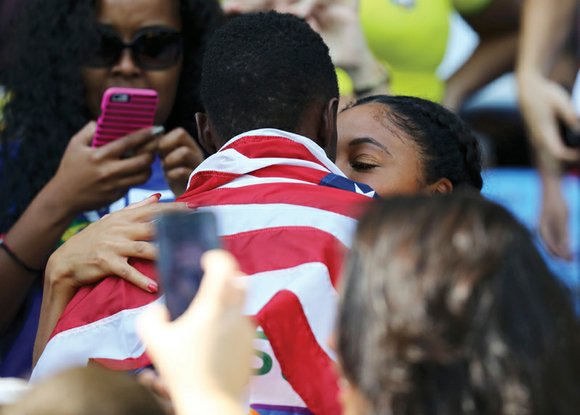 RIO DE JANEIRO
Queen Harrison of Richmond didn't qualify for the 100-meter hurdles in the Olympics, but she's bringing back bling from Rio — an engagement ring.
The 27-year-old Hermitage High School graduate and Virginia Tech standout, was in the stands in Olympic Stadium on Tuesday cheering on her longtime boyfriend, Will Claye, who was competing in the finals in the men's triple jump.
After claiming his second Olympic silver medal in four years with a jump measuring 17.76 meters and watching his American teammate Christian Taylor take the gold, Mr. Claye produced a diamond ring and leapt into the stands.
Draped in an American flag, he dropped to one knee in front of Ms. Harrison and asked her to marry him. She said "yes."
"When I woke up I was like, 'Today is going to be the best day of my life, ' " Mr. Claye told reporters. "I'm going to go out there and do what I have to do on the track and I'm going to make her my fiancée after that."
"She just burst into tears ... she didn't have any clue," he said, describing Ms. Harrison's reaction.
"I was just worried about what I had to do on the track. ... I was hoping nobody would propose to her first."
Mr. Claye is not the first Olympian to ring the wedding bells in Rio. Crowds at events including equestrian, diving and women's rugby have all been witness to public marriage proposals at the games.
The 25-year-old jumper said his proposal to sprinter and hurdler Ms. Harrison, his girlfriend of five years, had been a secret with only two of his new fiancée's closest friends in on the plan.
Mr. Taylor, who is a longtime friend and competitor of Mr. Claye from their college days at the University of Florida, said he had no idea of his rival's intentions beyond the competition when he jumped 17.86 meters on his first attempt to clinch his second consecutive Olympic gold.
"I don't know if I'd be able to do that," he said. "I'm proud that he made the most of this moment."
Ms. Harrison was a competitor at the 2008 Olympics in Beijing. She also hoped to run in Rio but missed qualifying by less than a second during the U.S. Olympic trials. Had she made Team USA, she would have been on the track in the women's 100-meter hurdles at the same time as Mr. Claye's jump event.
"I feel like it trumped the hurt she had from not making the team," Mr. Claye said of his proposal.
The couple has received congratulations and well-wishes from scores of people on Ms. Harrison's social media accounts — Instagram: goqueengo and Twitter: @goqueengo.