Track and field starts with local ties stand out in World Championship
Fred Jeter | 10/11/2019, 6 a.m.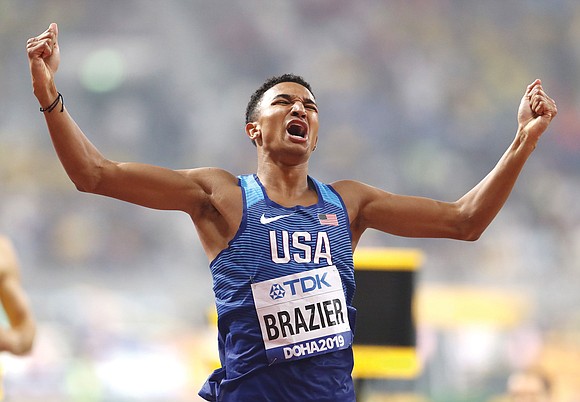 The Richmond area wasn't without rooting interests at the 2019IAAFWorldAthleticsChampionships in Doha, Qatar.
Two medalists — one gold, one silver — are linked to Central Virginia.
Donavan Brazier, the 800- meter champion, is the nephew of longtime Chesterfield County resident Percy Brazier.
A native of Grand Rapids, Mich., Brazier struck gold in an American record 1:42.34. That time broke the U.S. record of 1:42.6 set by Johnny Gray in 1985.
The world 800-meter record of 1:40.9 was set by Kenyan David Rudisha in 2012.
In his one season running for TexasA&M University, Brazier set the NCAA record of 1:43.55.
Brazier looms as the 800-meter favorite next summer at the 2020 Summer Olympics in Tokyo.
Also leaving his mark in Doha was Will Claye, husband of former Hermitage High School and Virginia Tech standout Queen Harrison.
In Doha, Claye took the silver medal in the triple jump, with a leap of 17.74 meters. Finishing first at 17.92 meters was fellow American Christian Taylor.
Claye and Harrison were married in October 2016. Harrison qualified for the 400-meter hurdles at the 2008 Summer Olympics in Beijing. Claye won the silver medal in the triple jump at the 2016 Summer Olympics in Rio de Janeiro.
There was additional Virginia pride in Doha.
Noah Lyles from T.C. Williams High School in Alexandria won the 200 meters in Doha, with a time of 19.83 seconds. Canadian Andre De Grasse took silver with a time of 19.95 seconds.
Lyles is a possibility to win both the 100- and 200-meter races in Tokyo.
He did not run the 100 meters in Doha. The event was won by American Christian Coleman in 9.76 seconds.
The world 200-meter record is 19.19 seconds, set by Jamaican Usain Bolt in 2009.