Va. Tech takes on Clemson for ACC championship
Fred Jeter | 12/2/2016, 5:43 p.m.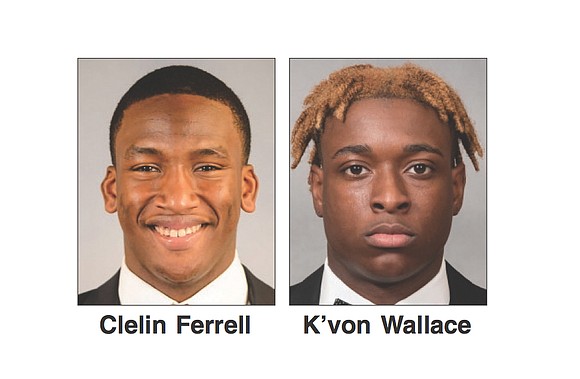 If Clemson University is to win the Atlantic Coast Conference and/or the National College football titles, the championship trophies are likely to reveal Richmond area fingerprints.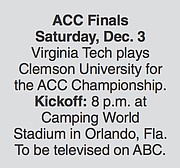 Clelin Ferrell from Benedictine College Prep and K'Von Wallace from Highland Springs High School in Henrico County will be suiting up for the 11-1 Tigers against 9-3 Virginia Tech on Saturday, Dec. 3, in the ACC finals in Orlando, Fla.
Ferrell is a 6-foot-5, 265-pound starting defensive tackle wearing No. 99.
Wallace is a 6-foot, 190-pound true freshman who contributes as defensive back and on special teams.
Ferrell has 11 starts this season and has lined up for 574 snaps. He is credited with 36 tackles, including 6½ for losses with four sacks.
Wallace, wearing No. 12, has been on 104 snaps this season, with six tackles and an interception.
With a victory, Clemson, ranked No. 3 by the Associated Press, will likely advance to the semifinals, starting Dec. 31.
Clemson lost to Alabama 45-40 in last year's national championship game.     
Ferrell, the son of Faye Ferrell and the late Cleavester Ferrell Sr., suffered a knee injury his senior season at Benedictine and saw no action. He was redshirted as a true freshman at Clemson.
Wallace was a prime time player last fall in Highland Springs High's run to the State Division 5 high school title. He earned All-State honors as a defensive back.
Virginia Tech also sports Richmond area talent.
Defensive tackle Nigel Williams from Benedictine is in the defensive rotation, Sam Rogers from Hanover is the starting fullback and Richmond native Augie Conte from Blessed Sacrament Huguenot Catholic School in Powhatan County plays on the offensive line.