K'Von Wallace playing for a national win for Clemson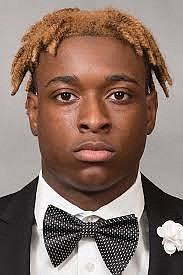 A local athlete figures to have a large say in who becomes the next NCAA football champion.
Clemson University's K'Von Wallace, a senior defensive back who played for Henrico County's Highland Springs
High School, is making a difference in the Tigers' secondary. Following standout performances against the University of Virginia in the ACC Championship game and Ohio State University in the national semifinals, Wallace is gearing up for the test of his life. Wearing No. 12 in Clemson orange, Wallace will be among those trying to slam the brakes on Louisiana State University quarterback extraordinaire Joe Burrow.
In what could be dubbed the "Striped Cats Bowl," the Clemson Tigers will face the LSU Tigers on Monday, Jan. 13 for all the marbles.
Burrow is the 2019 Heisman Trophy winner coming off a performance for the ages in LSU's 63-28 annihilation of the University of Oklahoma in last Saturday's other semifinal game in Atlanta.
The LSU senior passed for 493 yards and seven touchdowns — all in the first half — as LSU rolled.
By defensive back standards, Wallace is on a hot streak, too. The 205-pound Clemson Tiger was co-Defensive Player of the Game in Clemson's win over U.Va. He had nine tackles and two passes broken up.
In Clemson's 29-23 victory over Ohio State in Glendale, Ariz., Wallace had five tackles, including a sack, and broke up two passes.
On the season, Wallace has been in on 68 tackles (three sacks), with 12 pass break-ups and two interceptions, including one he returned for a 66-yard touchdown against Syracuse University.
He was selected third team All-ACC.
Wallace has enjoyed a stellar career with arguably the nation's premier football program. He has been in on more than 700 snaps over four seasons and figures to hear his name called in the 2020 NFL draft.
Richmond area players aren't new to Clemson heroics. A year ago, Clelin Ferrell, from Benedictine College Preparatory, was a ringleader in Clemson's win over the University of Alabama in the playoff finale. Ferrell then became the fourth overall pick in the NFL draft by the Oakland Raiders.
While Ferrell was a nationally recognized recruit at Benedictine, Wallace flew a bit under the radar at Highland Springs High despite winning All-State honors on defense and as a wide receiver. His only offers following his senior season were from James Madison University and the University of Cincinnati. Taking matters into his own hands, he mailed out game footage to bigger name colleges and his stock took off.
Confident in his ability, Wallace aimed for the stars and he has successfully hit his target.
Cat Fight
What: NCAA College Football Playoff Championship
When: Monday, Jan. 13 Time: 8 p.m. kickoff
Where: Mercedes-Benz Superdome, New Orleans
Opponents: Clemson Tigers (14-0) versus the Louisiana State University Tigers (14-0)
Early favorite: LSU favored by 3.5 points
Coverage: Game to be broadcast on ESPN television and radio