Angie's wings
Purple angel wings worn on helmet by Highland Springs player to honor his late mother guide team to second championship
Fred Jeter | 12/16/2016, 6:09 p.m.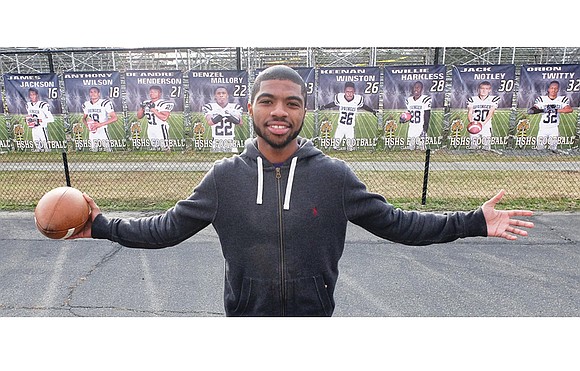 The Highland Springs High School football team may have had help from above last Saturday in clinching its second straight Division 5 state football championship.
The Springers added purple to their traditional black and gold colors this season in honor of beloved Angela "Angie" Johnson, mother of wide receiver Chris Thaxton, who died Nov. 12 of bladder cancer at age 45.
A prominent member of the Springers' Booster Club, Mrs. Johnson worked with many of the Highland Springs High athletes since they first took up the sport in kindergarten.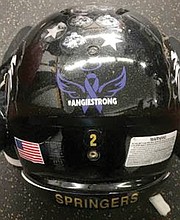 Even with her health failing, she attended the team's Senior Night on Nov. 4 with her husband, Karlos. Somehow she mustered the strength to escort her son on the field for the pre-game senior salute.
Using the rallying cry "AngieStrong," the Springers became unstoppable this season.
Gathering momentum each week, the Springers rolled last Saturday to the state Division 5 title, beating Stone Bridge High School of Ashburn 35-29 in the championship game at Hampton University.
"By the time we got to the championship game, there was no more talk. We just went out and played," said Thaxton, a 5-foot-10, 165-pound senior awaiting a college scholarship offer.
In a climactic moment fit for Hollywood, it was Thaxton — wearing purple sleeves and an "AngieStrong" insignia on his helmet — who caught the winning pass.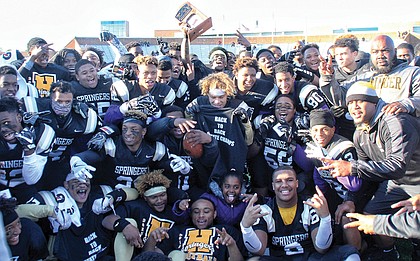 The victorious play came on a 3-yard toss from quarterback Juwan Carter with 26 seconds left on the clock.
"I wasn't even the primary target," said Thaxton. "I guess Stone Bridge had scouted us on that play and they had the others covered. I got open in the corner of the end zone.
"It was a great feeling when I caught it. I had promised my mother we'd win another championship for her."
Before the game, Thaxton spoke with K'Von Wallace, a member of last year's championship team. Wallace, now a freshman defensive back at Clemson University, drove to Hampton University to see his former teammates go for the title once again.
"K'Von kidded me about last year," said Thaxton. "He said I cost him a touchdown by committing a penalty and I needed to score one myself this year to make up for it."
Thaxton waited until the most dramatic of moments to record his decisive touchdown.
Later, Carter told the media that it was the glimpse of purple — the added color — that enabled him to spot Thaxton in the end zone, under intense pressure, through the maze of defenders.
It was a spirited end to a long season. It also marked the second straight year Highland Springs had defeated Stone Bridge in the final. Last year, the championship came by an easier 27-7 victory in Charlottesville.
Spurred by the electrifying Carter, a Norfolk State University signee, the Springers finished 14-1 for the second straight season. In 2014, they were 10-1.
In Carter's three years as quarterback under Coach Loren Johnson, Highland Springs was a combined 38-3, with the three losses by a combined five points. The team's only loss this season was 8-7 to Chesterfield's Meadowbrook High School on Sept. 9.
While Carter was among the Springers' most dynamic players on the field, Mekhi Becton was always largest. The 6-foot-7, 340-pound offensive tackle is being courted by the likes of the University of Michigan and Michigan State University, as well as the University of Virginia and Virginia Tech.
Highland Springs' long list of All-Conference 12 picks features Carter, Thaxton and Becton, as well as defenders Aaron Motley, Mike Greene, Rell Coley, Tavien Blackwell and Jordan Wells, and kicker Jack Notley.
A late bloomer, Thaxton, who has the unflattering nickname "Molasses," as in slow as molasses, has greatly improved his speed, and this year had eight touchdown catches for some 700 yards while earning All-Conference and also All-East Region honors.
Thaxton was an emotional leader of a spirited group that kept winning until there were no more games to win, only a trophy to clutch and memories to cherish.
These Springers will be recalled for their size, speed and especially their two kinds of strength. They were both muscle strong and "AngieStrong."