VUU's history grounded in incubating the oppressed for success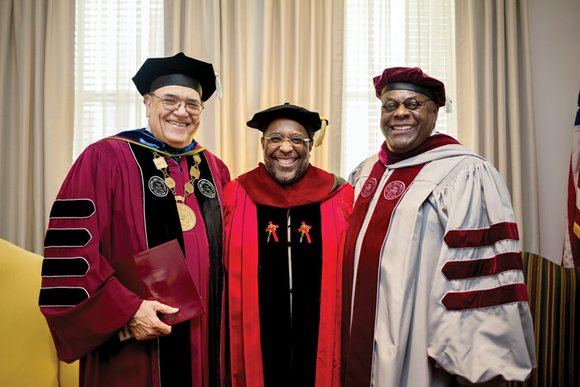 Audience members rose to their feet with impassioned shouts of "Hallelujah!" and "Amen!" at Virginia Union University's Founders Day Convocation last Friday.
They stood to affirm keynote speaker Bishop Rudolph W. McKissick Jr.'s stirring remarks in which he praised the university for educating African-American students, including himself, against formidable obstacles since its founding 151 years ago at the site of the former slave-holding pen known as Lumpkin's Jail in Shockoe Bottom.
Bishop McKissick earned a master's of divinity degree from Virginia Union University's School of Theology, now known as the Samuel DeWitt Proctor School of Theology. Today, he is senior pastor of the 14,000-member Bethel Baptist Institutional Church in Jacksonville, Fla.
He said the university has served as a "hiding place" for him and countless other students while they were educated and learned life skills that helped pave the way for their success.
"In 1865, in a place called Lumpkin's Jail, Virginia Union began a hiding process in a culture that said we were nothing because of the color of our skin, in a culture that wanted to say we were second class citizens," Bishop McKissick said, his voice rising.
"They began a hiding process, a process that refused to allow a society with its labels to limit the potential of young men and young women, a process that was determined to keep us until you could groom us, a process that said we will liberate your mind so that you can learn how to live a liberated life," he added.
"And I'm thankful today that, at age 50, I think like I think and I walk like I walk and I act like I act because I got to a place that hid me and nurtured me and tried to make me who God created me to be," he continued.
Bishop McKissick called it "the honor of my life" to return to speak at VUU.
He drew his remarks from the biblical passage in Hebrews chapter 11, verse 23 that reads: "By faith, Moses, when he was born, was hidden for three months by his parents, because they saw that the child was beautiful, and they were not afraid of the king's edict."
He spoke of how Moses' mother, Jochebed, hid her son from Pharaoh after he ordered all newborn Hebrew boys to be killed in order to reduce the population of the enslaved Israelites.
And "why else did she hide him?" the bishop asked the audience.
"You hide what you value," he said. "She hid him because she saw that he was someone beautiful who would be living in an oppressed condition."
Because she hid him, Bishop McKissick added, "she was able to give birth to the one who would challenge and change the culture" of the "Egyptians' oppressive system of slavery, which set (the Hebrews) up to be failures and second class citizens."
He asserted that VUU has served the same role of incubating the oppressed out of harm's way. He said the oppressors knew that "as the oppressed people increased in number, they would increase in strength" and would challenge the "cultural norms and low expectations" that society had set for them.