Foremost wishes for 2016
With the start of 2016, the Free Press invited select state and city officials to share their foremost wishes for the new year. Here are their responses.
1/1/2016, 8:46 a.m.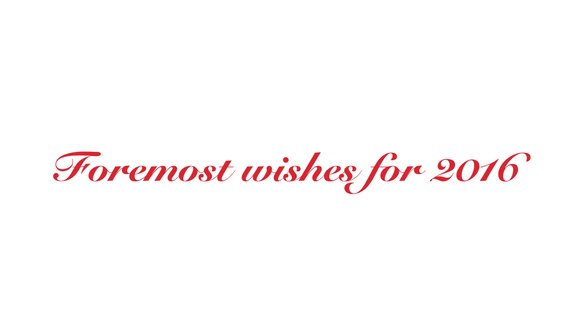 Richmond Mayor Dwight C. Jones:
This past year has been one of great accomplishments for our city.
We successfully hosted the World Championships of cycling and showcased our city around the world like never before. We completed a deal that makes us the new East Coast home of Stone Brewing Co., the ninth-largest craft brewery in the country, bringing development and jobs to a long-neglected part of town. We are moving forward with establishing an expanded public transportation system with Bus Rapid Transit and we've secured Richmond's place as an inland branch of the Port of Hampton Roads, to name a few achievements.
All of these things contribute to expanded economic growth, which is our goal — to create an environment in which we are generating the resources needed to meet our needs.
Our city's population is increasing for the first time in decades. We are experiencing a resurgence and Richmond is on many "hot spot" lists as a cool place to be. This is exciting for us and a welcomed trend with tremendous implications for our future.
But even as we experience this rebound, it will only last as long as we remember to bring everyone along. And the only way for us successfully to do that is to ensure that we make the most of our limited opportunities to secure the city's future for everyone.
My foremost wish for 2016 is that, as a city, we will continue to identify and seize those opportunities that will create jobs and economic opportunity for all. We need to generate as much new tax revenue as possible in order to support our schools, provide jobs and services and rebuild our infrastructure. Doing so will be the greatest remedy to combat crime and poverty.
As 2016 approaches, I hope that we all recommit ourselves to being stronger and more committed to finding solutions that will move our city forward and to building the best Richmond for all.
Sen. Mamie E. Locke of Hampton, chair of the Virginia Legislative
Black Caucus: Several years ago, I read Dr. Richard Carlson's book, "Don't Sweat the Small Stuff."
I have decided that the second part of the book's title is my foremost wish for 2016: "And It's All Small Stuff."
I have to be mindful that as the 2016 General Assembly session is set to start in a few short weeks, dealing with family losses in 2015 and handling routine life stresses, it is easy to get caught up in minutiae and allow it all to overtake your life.
So for 2016, my foremost wish is simply to not sweat the small stuff and remember that it's all small stuff. Life is simply too short to get caught up in the whirlwind of partisan bickering and the politics of foolishness. The citizens of the Commonwealth expect — and quite frankly deserve — better.
I will do my part to be a better servant-leader.
Richmond Police Chief Alfred Durham:
During the past
10 months as Richmond's chief of police, I have responded with my officers to far too many violent crime scenes where senseless acts of violence had occurred. We also have had our fair share of responding to scenes and seeing lifeless bodies sprawled in the streets and in homes.
As of this writing, there have been 1,079 violent crimes committed in the city during 2015. While we are experiencing a 13 percent decrease in violent crime this year, I find these numbers unacceptable. I am also very concerned about the number of youths having easy accessibility to and the proliferation of illegal firearms in the city.
Each day, the men and women of the Richmond Police Department report for duty to serve the residents with the highest degree of commitment, dedication and excellence. Public safety is a public responsibility.
As I have stated on numerous occasions, your police department can't reduce crime and violence alone. We all have a duty and moral obligation in preventing crime.
My message to every resident has been consistent in regards to residents having firsthand knowledge of a crime or when observing a crime taking place: If you see something, say something!
My foremost wishes for 2016 are simple: I wish that there would be outward displays of human kindness and expressions of love in the most challenging communities in our city. I wish that those who are involved in some form of conflict with another person would extend a hand to offer an apology instead of extending a weapon to inflict harm on another human being. I wish that any resident having knowledge of a person possessing an illegal firearm would contact us so that we can take the appropriate actions to prevent another act of violence or senseless death from occurring.
And my final wish is that we all do our part to make Richmond the safest city in America!
Happy New Year!
Anne B. Holton,
Virginia secretary of education:
My wish for education in Richmond and across the Commonwealth in 2016 is simple: I hope to see all our students prepared for citizenship and success in the new Virginia economy, our dedicated teachers appreciated for their key role and all our parents significantly involved in their children's education.
We have made progress during the past two years thanks to the dedication of Gov. Terry McAuliffe and educators all across Virginia. That progress includes a 10 percentage point gain in fully accredited schools since last year and new recognition for schools that are moving in the right direction. But there is much more work to be done.
It is so important that we continue to reduce our excessive emphasis on standardized testing. I hope in 2016 we can help teachers and students rediscover creativity in the classroom and the joy of learning.
It is crucial that we continue to partner with our communities in the new year to ensure that every student has the opportunity for a great education regardless of their ZIP code. We also need to make it easier for all of our young people to enter and complete college or obtain other credentials that will lead to rewarding 21st century jobs. These are lofty goals, but goals I am confident we can accomplish if we continue to work together.
The governor's recently proposed budget, which includes a bold $1 billion-plus investment in public schools and higher education, will address all of these goals. Proposed investments, including additional resources to provide 2,500 new teachers across the Commonwealth, funds for challenged schools, financial aid and shortened Standards of Learning tests and much more, will help us make this shared dream a reality.