'We need to rebuild, renew and refocus,' Emancipation Day speakers say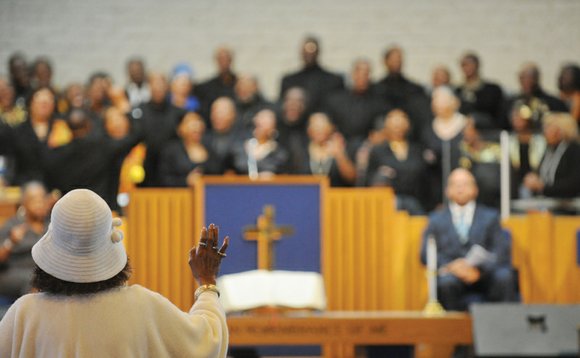 One after another, speakers at the 75th Annual Emancipation Proclamation Day Worship Celebration at Fifth Baptist Church in the West End passionately implored listeners to get involved in community betterment.
Lynetta Thompson, president of the Richmond Branch NAACP, drew shouts of "Amen" and "Hallelujah" when she said, "Black churches, we need your help. We need for you to be a voice for the voiceless," she stressed.
She urged audience members to step outside the walls of the church to perform community service and become active in groups such as the NAACP that work for social change. The Bible, she said, has more than 300 verses speaking to seeking social justice and helping the poor.
Ms. Thompson said churches should create a social justice outreach ministry and that church members should go to the General Assembly, City Council, School Board meetings and into the community as advocates for the downtrodden.
"We need for you to sow back into our community," she said. "We need laborers. The world knows how powerful the black church is when we stand as a community. We need to rebuild, renew and refocus to save ourselves."
Dr. Marlon Haskell, president of the 200-member Baptist Ministers' Conference of Richmond and Vicinity that sponsors the annual New Year's Day event, echoed those thoughts.
"We need to move forward in the liberation that God has granted to us," he said. "We need to reach back to help our young brothers and sisters and show them a better way."
He said members of the ministers' conference will advocate for social justice legislation at the General Assembly session that starts Wednesday, Jan. 13, and urged others to get involved as well.
Nearly 400 people attended the service that marked the 153rd anniversary of the issuance of the freedom document by President Abraham Lincoln in 1863. The presidential act freed slaves in the pro-slavery Confederacy, a move that figured prominently in the Union's victory over the Confederacy in the Civil War.
Richmond Delegate Delores L. McQuinn, chair of the Richmond Slave Trail Commission, minced no words in her call to action.
"We need to wake up and let's make things change!" she said, her voice rising.
She said it's time for people to call on legislators to enact common sense gun laws, to protect voting rights and to ensure health care coverage for all.
"Let's leave with an intentionality and commitment to make this world a better place," Delegate McQuinn said.
The Rev. Earl M. Brown, who co-pastors Fifth Baptist Church with his son, the Rev. Ricardo L. Brown, said, "We have many challenges before us," mentioning examples such as the terrorist group ISIS, massive flooding in Missouri and Illinois and crime in Richmond.
"In spite of it all, we're still here and we're still being emancipated," he said.
The Greater Metropolitan Choir, a mix of choir members from various area churches, also brought the audience to its feet several times with inspiring renditions of classics such as "Thank You," "How Excellent Is Thy Name" and "I Feel Your Spirit."
The Rev. Elmore E. Warren Jr., a Richmond native and senior pastor of Whitestone Baptist Church in Baltimore, offered the main message, "From private pain to public praise."
He told the audience, "Think where we have come from and where we are today, and we have so much to thank God for."
He soberly added, "We've got a long way to go and the road ahead is much harder."
Minister and radio personality Cavell Phillips led the community event. Elected officials attending included Richmond City Council members Ellen F. Robertson, 6th District, and Cynthia I. Newbille, 7th District, and the Rev. Roscoe Cooper III, the newly elected Fairfield District representative on the Henrico County School Board.
Donations were collected to provide money to area NAACP branches. The ceremony concluded with the singing of "Lift Every Voice and Sing."