Dr. Franklin issues call to action at Community Leaders Breakfast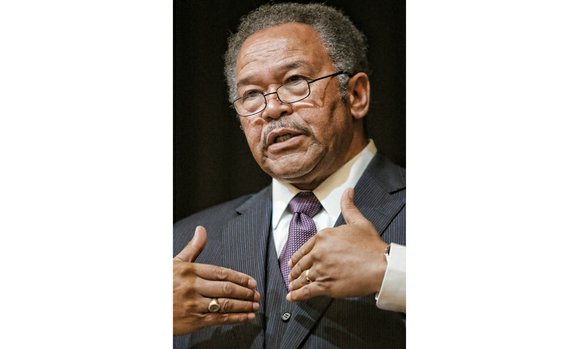 The state's No. 1 cheerleader, Gov. Terry McAuliffe, drew enthusiastic applause as he delivered impassioned remarks and extolled a bipartisan approach to solving the state's problems at the 38th Annual Community Leaders Breakfast last Friday honoring the life and legacy of the late Dr. Martin Luther King Jr.
Virginia Union University alumna Florence Neal Cooper Smith of Richmond delivered touching remarks to the capacity gathering at the Claude G. Perkins Living and Learning Center at Virginia Union University after she was honored with the Dr. Martin Luther King Jr. Lifetime of Service Award for decades of advocacy work on behalf of those with sickle cell anemia.
And Dr. Robert M. Franklin, president emeritus of Morehouse College in Atlanta, issued a clarion call to action in his eloquent keynote address.
Those were among the highlights at the community event that brought together hundreds of public officials, civil rights advocates, corporate and faith leaders, educators and members of the community to honor Dr. King and continue the call for community action to fulfill his dream.
Several speakers at the breakfast praised former Gov. L. Douglas Wilder, who attended the event, recognizing that Jan. 13 marked the 26th anniversary of the VUU alumnus being sworn in as the nation's first elected African-American governor.
When he was in the state Senate, Mr. Wilder spearheaded a nearly decade-long effort to have Dr. King's birthday established as a state holiday. It was signed into law in 1984 by then-Gov. Charles S. "Chuck" Robb, and later became a national holiday, celebrated for the first time in 1986.
The annual breakfast hosted by VUU, with the support of corporate sponsors, has been a highlight of local commemorations. The Rev. Tyler C. Millner of Morning Star Holy Church in Martinsville collaborated with the late Dr. Grace Pleasants to expand the celebration of Dr. King's birthday from an annual worship service into the current Community Learning Week.
"We did this as a celebration of Dr. King, but also to educate and inform leaders what they should be concerned with when they went back to their communities," the Rev. Millner told the Free Press.
The community breakfast kicks off a series of events now organized by Living the Dream Inc., under the direction of the Rev. Ricardo Brown of Fifth Baptist Church in the West End.
In his remarks, Dr. Franklin outlined "three zones of moral action" that are imperative to address in today's climate that he said is complicated by the realities of prejudice and racism, economic inequality, corrosive politics and vicious and destructive violence.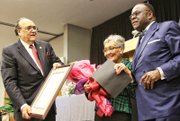 "First, the zone of police and community relations. Where they are frayed, moral leaders must step into place where there is mistrust and fear with visions and values of interdependence, respect and hope," he said.
He spoke of a partnership between the New Jersey NAACP and police in which 130 police chiefs from that state underwent implicit bias training by the NAACP, while NAACP leaders from units around the state went through police simulator training. The efforts helped each group understand better the perspective of the other, he said.
Secondly, Dr. Franklin called for providing "care, discipline and moral education for our young people. That is the responsibility of the village elders and anchor institutions, families, schools, congregations and community organizations," he said.
He said "whites must grapple with white privilege and myths of supremacy, a benefit not requested or earned but merely conferred by social systems and codes with deep roots in a racist past."
"Blacks," he added, "must wrestle with torturous memories, legacies, policies and social demons of the past. These demons assume many forms, including a sense of victimization that promotes self-pity and stagnation and self-destruction. Blacks must avoid the traps of internalized oppression and self-hatred," he said.
The third zone, Dr. Franklin said, "calls us all out of our ethnic and economic enclaves to the high and demanding work of re-engineering, reforming and rebuilding our institutions and policies by diverse coalitions of people working for the common good."
He said such institutions should include "the state, the market, the independent sector and the faith community.
"It is heavy lifting that involves challenging old and long-standing and unexamined assumptions about our institutional norms," Dr. Franklin said. "We must ensure greater inclusiveness and equity in our institutions."
In brief remarks, Dr. Perkins talked about VUU's history, noting that it's grounded in a mission to instill in its students a desire to advocate for "social justice, human dignity and equality."
He noted that VUU students perform thousands of hours of community service each year throughout the Richmond area.
"Today, our challenge is to remain committed to serve our community to make it a better place," he said.