Dr. Franklin issues call to action at Community Leaders Breakfast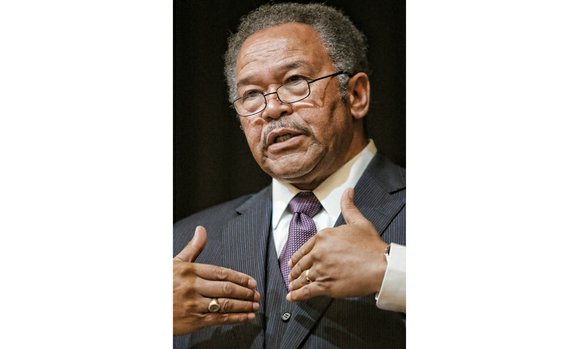 Secondly, Dr. Franklin called for providing "care, discipline and moral education for our young people. That is the responsibility of the village elders and anchor institutions, families, schools, congregations and community organizations," he said.
He said "whites must grapple with white privilege and myths of supremacy, a benefit not requested or earned but merely conferred by social systems and codes with deep roots in a racist past."
"Blacks," he added, "must wrestle with torturous memories, legacies, policies and social demons of the past. These demons assume many forms, including a sense of victimization that promotes self-pity and stagnation and self-destruction. Blacks must avoid the traps of internalized oppression and self-hatred," he said.
The third zone, Dr. Franklin said, "calls us all out of our ethnic and economic enclaves to the high and demanding work of re-engineering, reforming and rebuilding our institutions and policies by diverse coalitions of people working for the common good."
He said such institutions should include "the state, the market, the independent sector and the faith community.
"It is heavy lifting that involves challenging old and long-standing and unexamined assumptions about our institutional norms," Dr. Franklin said. "We must ensure greater inclusiveness and equity in our institutions."
In brief remarks, Dr. Perkins talked about VUU's history, noting that it's grounded in a mission to instill in its students a desire to advocate for "social justice, human dignity and equality."
He noted that VUU students perform thousands of hours of community service each year throughout the Richmond area.
"Today, our challenge is to remain committed to serve our community to make it a better place," he said.