Paydazed in RVA
High-fee payday loan traps Henrico man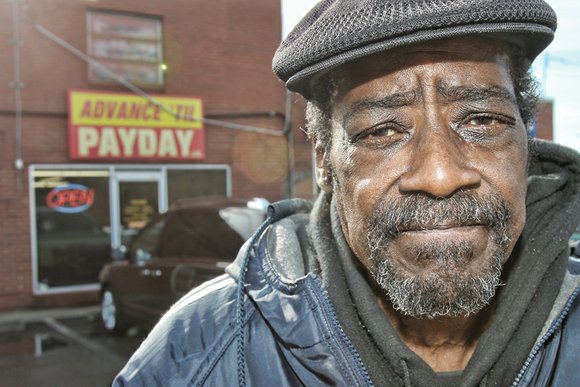 If the $100 loan had been outstanding for a year, he would have paid a total of $960 in participation fees, the equivalent of 960 percent interest on the original loan.
Like other payday lenders, Advance 'Til Payday only required that Mr. Garrett be over age 18, have a bank account and a job or a verifiable source of income to get the loan.
According to a federal study, the average payday borrower pays $520 in fees and needs a half-year to pay off a payday loan, which typically is made for two weeks to 30 days, depending on when the person is to receive the next paycheck.

In the car-title world, companies like TitleMax get around state regulations by moving their clients into a consumer finance loan when the amount borrowed exceeds $2,500. Currently, state law does not put a cap on the interest and fees a company can charge on consumer loans that exceed $2,500. Last year, such lenders repossessed 20,000 vehicles from Virginia borrowers who could not afford the loans, according to state data.
The average title loan runs $950, it typically takes 10 months to repay the loan, meaning that, on average, borrowers pay $2,140 in interest, the Center for Responsible Lending reported in a recent study.
Despite stories like Mr. Garrett's over the years, reformers have remained in a distinct minority in the General Assembly, no matter which party is in charge.
Every year, bills calling for a 36 interest cap on all consumer loans have been blocked by a bipartisan majority of legislators who support such loans or who receive large campaign contributions from such lenders. Senate Minority Leader Richard L. "Dick" Saslaw, a Democrat from Fairfax, has received more than $230,000 during the past decade from trade groups representing such lenders, according to the Virginia Public Access Project, which monitors campaign contributions.
Reformers have been unsuccessful during the 2016 General Assembly session, despite Gov. Terry McAuliffe adding his voice to the call for a blanket 36 percent interest cap.
In response, Sen. Saslaw on Monday rallied the Senate Labor and Commerce Committee to kill every bill that would have imposed such a cap, destroying any hope of changing the situation for the Donald Garretts of Virginia.
Only a few members of the committee stood up to support the interest cap, including two members of the Virginia Legislative Black Caucus, Sen. Rosalyn R. Dance, D-Petersburg, and Sen. L. Louise Lucas, D-Portsmouth.
A fresh wave of such reform bills is moving in the House of Delegates. But even if they are approved by the House, such bills are considered likely to die when they hit the Senate committee.
"I shudder every time I get near Advance 'Til Payday thinking about what happened to me," Mr. Garrett said. "I see others going inside. I just wish I could warn them. 'Don't do it,' I'd tell them. 'Find some other way.' Those people are devils."