Jehovah's Witnesses return to Richmond
7/1/2016, 11:59 p.m.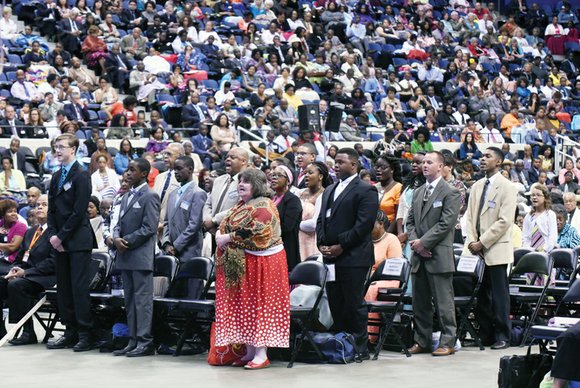 "Loyalty to Jehovah God."
That's the theme for a series of conventions being held by the Jehovah's Witnesses continuing during the next few weekends at the Richmond Coliseum in Downtown.
The three-day conventions, which began last weekend, are expected to draw a total of more than 30,000 members of the faith from Virginia, Maryland and the District of Columbia by the final convention at the end of July.
The conventions are free and open to the public. They will be held:
• Friday, July 1, through Sunday, July 3;
• Friday, July 8, through Sunday, July 10, in Spanish;
• Friday, July 22, through Sunday, July 24; and
• Friday, July 29, through Sunday, July 31.
Donovan W. Greer, media services coordinator of the conventions, said the annual series has been held in Richmond for about 15 years.
"The Richmond convention people, the Coliseum management and hotels and restaurants have worked with us so well," he said, noting the welcome members have received by the city.
Each of the conventions will feature music, videos, a drama and talks by more than 50 individuals, including several from the Jehovah's Witnesses' world headquarters in New York.
Among the featured speakers this weekend are Wesley Gregory, program overseer, on "Keep Waiting Eagerly with Endurance," at 4:15 p.m. Saturday, July 2, and Mark Washington of Marshall Heights in the District of Columbia, on "When Will Loyal Love Triumph Over Hatred?" at 12:20 p.m. Sunday, July 3.
The conventions also will include baptisms in a pool inside the Coliseum. Thirty-three people were baptized last Saturday during the convention, Mr. Greer said.
The Jehovah's Witnesses has about 8 million members worldwide — 1.6 million in the United States — and is one of the fastest-growing Christian denominations. Eight new congregations are added each week across the globe, Mr. Greer said, with each congregation averaging about 100 members.
For more information, go to www.jw.org.