Jehovah's Witnesses to focus on Bible, resilience
6/30/2017, 6:31 a.m.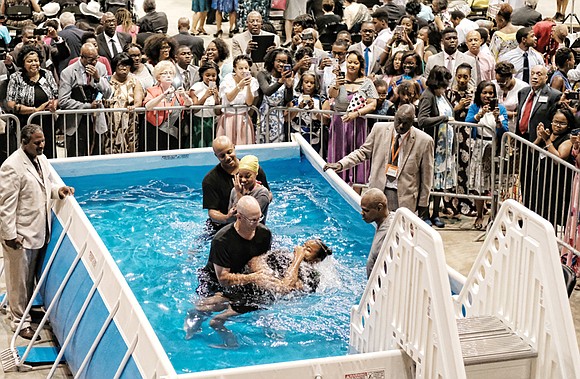 During a time when people around the world are struggling with feelings of hopelessness, the Jehovah's Witnesses plan to address those difficulties during its annual series of conventions in Richmond during upcoming weekends.
The theme: "Don't Give Up!"
More than 30,000 delegates, followers and visitors from Virginia, North Carolina, Washington, Maryland and Delaware are expected to attend the three-day conventions that began last weekend and will continue through Aug. 6 at the Richmond Coliseum.
The conventions are free and open to the public. They will be held:
• Friday, June 30, through Sunday, July 2;
• Friday, July 7, through Sunday, July 9;
• Friday, July 21, through Sunday, July 23;
• Friday, July 28, through Sunday, July 30, in Spanish; and
• Friday, Aug. 4, through Sunday, Aug. 6, in Spanish.
A convention in American Sign Language also will be held Friday, Aug. 4,through Sunday, Aug. 6, at the Virginia Assembly Hall of Jehovah's Witnesses, 5607 Midlothian Turnpike.
Each of the conventions will feature music, videos, dramatic readings of Bible verses and dozens of speakers during the three days. Topics to be covered include "Cultivate Qualities that Promote Endurance," "Don't Give into Fear" and "Run with Endurance."
A keynote address will be held each Sunday with an exploration of the topic "Keep in Expectation … It Will Not Be Late!" (Habakkuk 2:3). A different speaker is featured each week.
Baptisms will be performed on Saturdays. Twenty-nine people were baptized in a pool inside the Coliseum during the convention on Saturday, June 24.


Clyde Arrington, a spokesman for the conventions, said Richmond has always been very welcoming to the people of the Jehovah's Witnesses faith, and "successfully filled (our) needs for the past 25 years."
Details: www.jw.org/en/jehovahs-witnesses/conventions/