By invitation only
New members to join Academy after 2nd all-white Oscars draws criticism
7/8/2016, 6:06 p.m.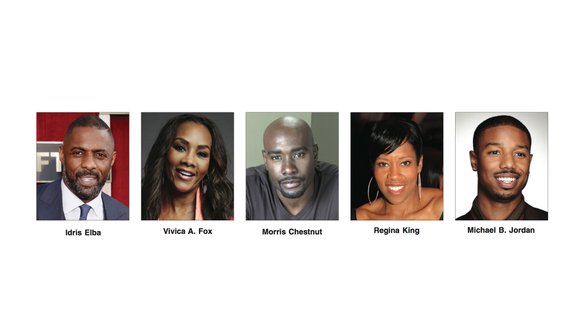 Free Press wire report
LOS ANGELES
After suffering severe criticism for having a second straight year of all-white acting nominees for the Academy Awards, the Academy of Motion Picture Arts and Sciences has invited 683 new members to join the organization.
The academy says its invitees are 46 percent female, 41 percent minority and represent 59 countries.
Should all of the invitees accept, the new class would make the academy's overall membership 27 percent female and 11 percent non-white, up from 25 percent and 8 percent respectively.
Idris Elba, Anthony Anderson, John Boyega, Morris Chestnut, Cliff Curtis, Loretta Devine, Carmen Ejogo, Vivica A. Fox, O'Shea "Ice Cube" Jackson, Michael B. Jordan, Regina King and Nia Long are among the actors invited to membership. Also, Chadwick Boseman, Eva Mendes, America Ferrera and Anika Noni Rose.
Other potential new members helping to increase the academy's diversity include Chinese cinematographer Zhao Fei, Japanese production designer Yohei Taneda, Mexican director Patricia Riggen and musicians such as Fitzgerald Diggs, who is better known as RZA from Wu Tang Clan.
Six months ago, the organization announced, following blistering criticism, its intentions to double the number of female and minority members in its ranks by 2020. The 2016 group of invitees is the academy's largest ever and more than doubles last year's class, said President Cheryl Boone Isaacs.
She said the academy has worked for several years to diversify its largely white, male membership. Last year's #OscarsSoWhite movement amplified that conversation.
The academy announced sweeping changes to its recruitment and voting practices in January after a second straight year of all-white acting nominees for the Academy Awards.
In March, the organization added three new members to its board of governors and appointed six minority members to other leadership positions.
"I think because the conversation has truly exploded that we were able to have the size and the diversity of talent increase even more for 2016," Ms. Boone Isaacs said.
"We have recognized diverse talent throughout our history," she said. "What is of-the-now is how expansive and diverse our industry has become."
She said academy members have been energized by the mandate to bring emerging or overlooked talents into their ranks.
"It has been like a charge of electricity," she said.
Two-time Oscar nominee Laura Dern has felt that energy in the actors branch.
"It is the membership saying we want to support fellow artists," Ms. Dern said last week. "And we want to really feel that the academy is a true representation of art at this time on this planet."
Just as moviegoers and Oscar watchers are demanding more diversity on screen, Ms. Dern said the academy is seeking to be more inclusive and expansive in its search for excellence.
"As history continues to prove to us, we always seem to benefit when you question," she said. "It's an artist's job to question, to consider and to figure out how to expand and grow. So we have to take that to heart and ask ourselves and each other how we can continue to grow and represent art in the best possible way."