That's the ticket
Hillary Clinton shatters glass ceiling with historic presidential nod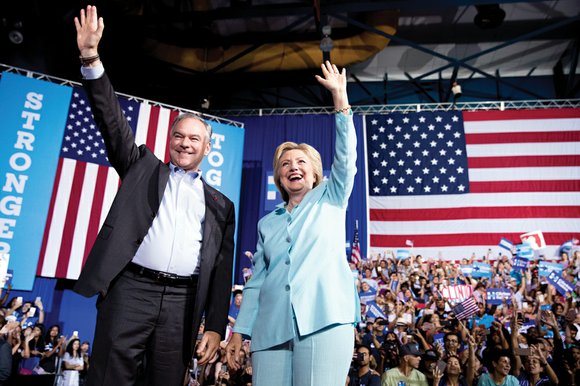 Even as Sen. Sanders endorsed Mrs. Clinton in a convention speech Monday and during the roll call on Tuesday, many of his supporters protested on the convention floor and outside the convention hall against the Democratic Party leadership's apparent backing of her during the Democratic primary fight.
Party officials sought to tamp down lingering bitterness among die-hard Sanders supporters, and move past unruly displays of dissent that marked the convention's first day on Monday amid tensions over an email scandal involving outgoing Democratic National Committee Chairwoman Debbie Wasserman Schultz. The emails appeared to show the DNC favoring Mrs. Clinton over Sen. Sanders during the hard-fought primaries.
Every time Mrs. Clinton and Sen. Kaine, were mentioned onstage during the first several hours of the convention, a round of boos followed. As different people spoke, Sanders supporters broke into chants of "Bernie! Bernie!" Some delegates shouted "No TPP" in protest of the Trans-Pacific Partnership, a trade deal decried by GOP nominee Mr. Trump, as well.
Following a chaotic scene at a Monday morning meeting where she was loudly jeered by Sanders supporters, Ms. Wasserman Schultz did not speak at all during the convention as planned and plans to step down after it ends.
The DNC issued an apology to Sen. Sanders moments after the convention opened, hoping to help soothe tensions heading into the week.
Mrs. Clinton's nomination comes eight years after the Democrat's historic nomination of Barack Obama as the first African-American for president. President Obama and Vice President Joe Biden were among the list of high-profile speakers slated to delivered remarks about Mrs. Clinton's ability to lead the country.
The tone of the Democratic gathering — and the crowd itself — was quite different from last week's convention of Republicans.
Of the Republican convention's 2,472 delegates, just 18 were African-American. Of the Democratic convention's 4,766 delegates, 1,182 are African-American.
President Clinton's talk on Tuesday clearly was to humanize his wife while energizing Democrats and villainizing Mr. Trump.
"She never made fun of people with disabilities," President Clinton said, referring to Mr. Trump's mocking of a disabled reporter last year. "She tried to empower them based on their abilities."
He recalled how he and Mrs. Clinton met as students at Yale Law School and cited her many professional accomplishments along with being a nurturing mother to their daughter, Chelsea.
His speech was preceded by that of nine African-American mothers whose children have been killed by gun violence or in encounters with police. The women, who have been campaigning for Mrs. Clinton for months, said she met with them privately to hear their stories and worked with them to promote gun control measures.
Lucia McBath, whose 17-year-old son Jordan Davis was fatally shot after playing loud music in his car in 2012, said Mrs. Clinton "isn't afraid to say Black Lives Matter," a phrase Mr. Trump and other Republicans have derided by saying that all lives matter. But Ms. McBath also said Mrs. Clinton knew that Americans needed to come together to keep children safe.
"We're going to keep building a future where police officers and communities of color work the together in mutual respect," she said.
On Monday night, First Lady Michelle Obama's well-received speech touched on race, partisanship, patriotism and feminism, all while rebuking Mr. Trump's central theme that American has lost its footing.
"Don't let anyone ever tell you that this country isn't great — that somehow we need to make it great again — because this right now is the greatest country on Earth," she said to thunderous applause. "And as my daughters prepare to set out into the world, I want a leader who is worthy of that trust."