Groups unite for slavery memorial in Shockoe Bottom
6/3/2016, 11:36 a.m.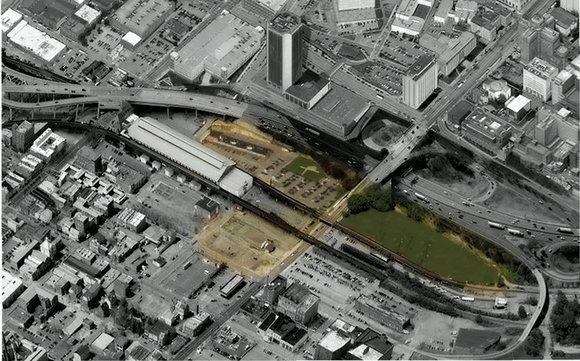 Delegate Delores L. McQuinn, chair of the Slave Trail Commission that has $19 million in state and local commitments to create a memorial, said while the door for communication is open, no one invited her to this week's community sessions, nor have there been conversations on ways to work together.
More importantly, she noted that the work of the Slave Trail Commission involving Lumpkin's Jail and the African Burial Ground does not prevent the area from being expanded in any future plans.
She hinted that there will be a "big announcement" soon on the next phase of work at the Lumpkin's Jail site.
Ana Edwards, chair of the Sacred Ground Historical Reclamation Project, said action by the Slave Trail Commission wouldn't negate what the advocate groups are considering.
"They could go ahead with this, and that would be great," she said of the commission's proposals. "But we would like to see the full 9 acres protected."
"This site in Shockoe Bottom is unique beyond compare in so many ways," she said. "But it's principally a place where you can not only find the slavery history but the black history origins in the state of Virginia and the city of Richmond that tie us to the rest of the national story."
Advocates are looking to present their design proposals as alternatives the city would consider in response to public "Richmond Speaks" meetings the city held last year about the Lumpkin's Jail site. The city has added the African Burial Grounds to its plan.
"It is important to understand that this is the land that we currently control," city spokesperson Tammy Hawley said, noting the $19 million in financial commitments.
"This represents a level of financial support that this project has not had before and we are moving forward to build this site up to tell a fuller and more complete history of our city and our country," she said.